| | |
| --- | --- |
| 3 Biggest Health Robbers | Wednesday, January 24, 2018 |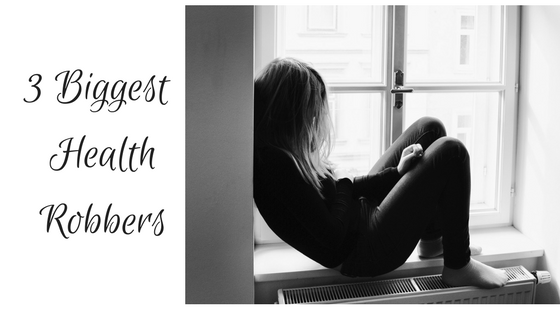 Over the past few weeks, I had the opportunity to accompany a friend to Sanoviv Medical Institute in Mexico.
Sanoviv specializes in treating many chronic health conditions like cancer, autoimmune disorders and Lyme disease.  They also run detox programs to improve your health.
There were a few things that became quite apparent for health and healing while I was there. Nothing that was new to me, but instead reinforced the importance of it to maintain and optimize health.
3 Things that Rob Your Health and What you can do about them
1. Sugar
Sugar is one of the worst things you can eat.  If you were to add up all the sugar you eat in a day, you would be astounded.  Most of the sugar people eat, is not even in realization that they are eating sugar in the first place. 
Did you know that bread even turns to sugar in your body? 
Or how about sweeteners like agave nectar, corn syrup, dextrose, fructose, etc. that show up in most of our packaged foods? 
I learned sugar feeds ill health and in particular cancer. 
Now, fruit shouldn't be confused with sugar.  Fruit in its whole form contains fiber which slows down the rate at which glucose hits the blood stream.  However, you should still be careful with how much fruit you eat. 
Did you know that 1 apple contains 4 teaspoons of sugar?  If you juice that apple, the entire 4 tsp will absorb and feed your cells with sugar.  That is why it's best to eat fruit in its whole form, fiber intact. 
The last thing I will say about sugar is watch the amount of sauces you use and even salad dressings.  Make your own and keep sugar out.
I also learned that sugar causes a fatty liver.  Got a fatty liver?  A fatty liver is the liver being flooded with too much sugar.  Cut it out and see what happens.
2. Inflammation
Keep Inflammation as low as possible.  Inflammation is rampant in people's bodies these days. The common North American diet is very inflammatory with gluten and processed foods like dairy, sugar, sauces and dips, coffee, etc. 
Inflammation clogs up your body's ability to properly detoxify, and to heal. 
Eating a very heavy diet in vegetables which is as organic as possible is one of the best ways to keep inflammation at bay. 
At Sanoviv, most meals were completely vegetable base with some added nuts and fats like avocado.  I found myself eating a big salad with seeds and avocado, and then some steamed veggies on the side.  Very little white meat/poultry was eaten, and the only grains consumed were quinoa, oatmeal, wild rice and brown rice.  There were very few legumes aside from lentils.  I noticed I felt very clean eating this way. 
One of my favorite things they served was Golden Milk.  Now, Golden Milk is amazing at reducing inflammation, getting your liver detoxifying and blood purifying.  It's great for the joints and arthritis and is even a great tonic for a woman's reproductive system.  
I recommend that you make Golden Milk if you have never tried it. 
Golden Milk Recipe
¼ cup of water
1/8 tsp of turmeric
1 cup almond or nut milk
1-2 tablespoons of almond oil or nut oil 
Pinch of cardamon and cinnamon 
Raw honey to taste if desired. 
Boil water and turmeric in a small saucepan over medium to high heat for 8 mins.  This cooks the turmeric and releases its properties.  Meanwhile bring the rice or nut milk to a boil in another saucepan and then remove from heat.  Add in the coconut oil or almond oil, cardamon and cinnamon as well as the raw honey if desired.  Mix both mixtures together.  Drink and enjoy. 
3. You Can't Heal if You are Stressed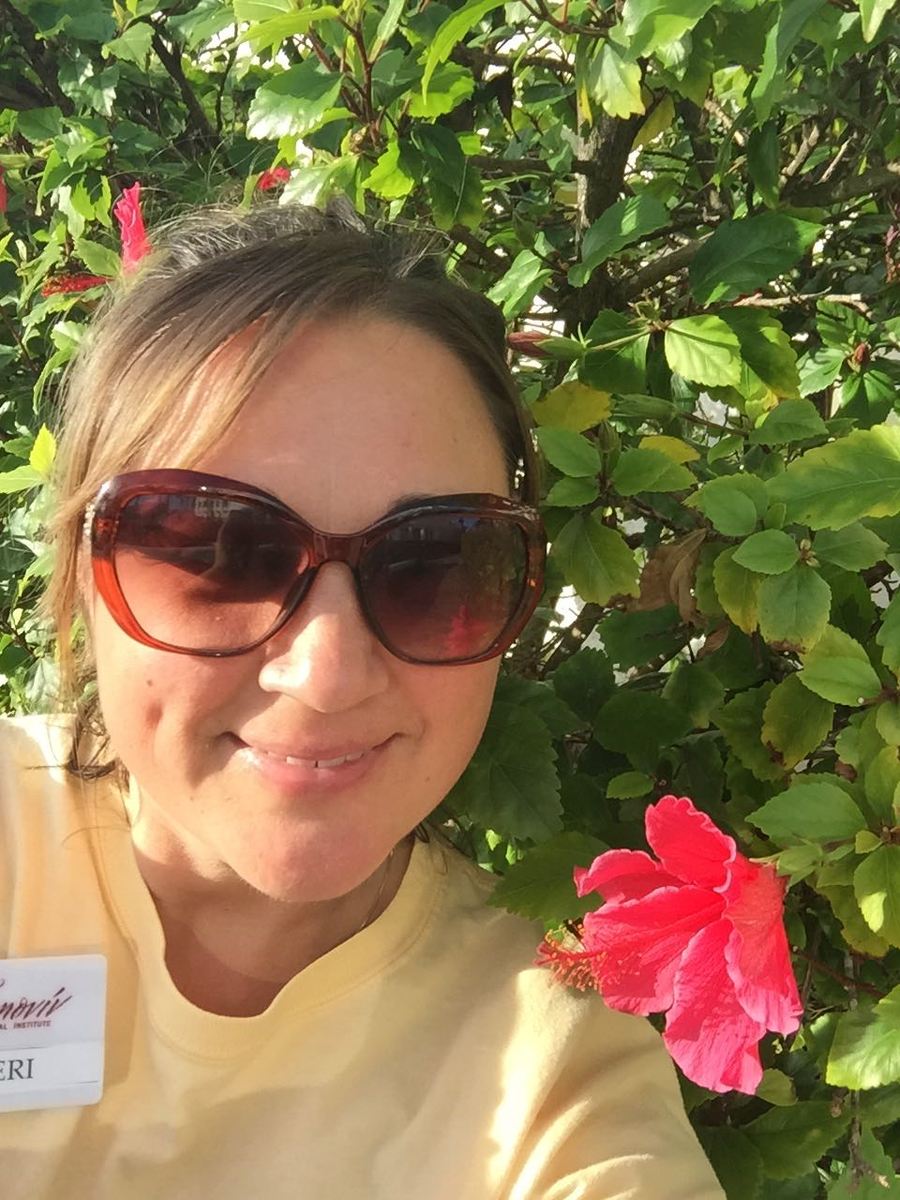 Lastly, I would like to mention my biggest takeaway.  If one cannot maintain a balanced state of inner peace, and allows stress to lead the way, health will be hard to maintain.  I realized that stress comes in many forms.  Complaining, control, or feeling a lack of control, worry, feeling unloved, not being present in the moment, anger and supressed frustration, harboring old hurt (which only hurts you) and lack of self-love to name a few. 
I learnt that surrender and acceptance even in crappy circumstances is essential to healing.  One woman I met at Sanoviv was able to align her mind and body into a place of peace, acceptance, and wellbeing while she was there.  In three weeks, her cancer markers returned to that of a healthy person.  Rather than stressing about the disease itself, she choose to be at peace and know that her mind was her biggest ally in healing. 
One doctor at Sanoviv said that there are only two reasons for illness other than injury, a bad diet and stress.  If you can work on both of those, you have the best chance at a good healthy life.
Of course, I re-learned a lot more while visiting Sanoviv Medical Institute.  I will be sharing these with you over the coming weeks.  So, stay tuned!
If, you are wanting to find more peace in your life and emotions, why not work with Adam Fulmore, Intuitive Energy Healer to get to the bottom of your body's emotional stress patterns? 
Sign Up for a Distance Healing Session
Or, I would love to help you with a Full Medical Intuitive Reading.  Make 2018 your healthiest year yet!
Sign Up for a Full Medical Intuitive Reading
In Good Health,
Keri Fulmore
Medical Intuitive
Functional Medicine Practitioner
Author
| | |
| --- | --- |
| New Insomnia Solutions | Tuesday, September 5, 2017 |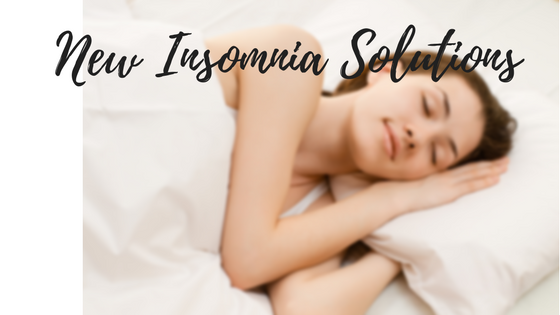 If you are suffering from insomnia, you understand how the sleepless nights can be frustrating.  You get it when I mention feeling like a zombie in the morning, and dragging yourself all day long.  Not getting 6-8 hours of REM sleep effects every aspect of your life.
Luckily, there are some great solutions that you may not know about.
But first, I think it is important to talk about the mental and emotional aspect of insomnia.  Insomnia is usually the last symptom in a stress response.  After a long bout of stress or life changes, the mind can have a hard time shutting off.  This is usually due to cortisol (our stress hormone) and a brain that has been wired for stress.  The first step in battling insomnia is to look at your life from a new perspective. 
Are you doing things that you don't like doing? 
Are you a people pleaser?
Do you over extend yourself to meet deadlines? 
Insomnia is a symptom that should prompt you to re-evaluate your life.  Not only should you re-evaluate your life, but re-training your brain to slip into the healing and relaxation response is necessary. 
There are two kinds of insomnia.  The kind where you can't seem to fall asleep no matter what you do, and the kind where you fall asleep but wake up frequently. 
Frequent waking can be a sign of high blood sugar or hypoglycemia, too much alcohol, caffeine, spicy foods and even stress. It can also be a sign that you are deficient in minerals like chromium, vanadium and manganese and other nutrients.  A deficiency in these minerals can cause you to wake every few hours with a hard time falling back asleep.
Then there is the "happy hormone" serotonin, which is a hormone that is a precursor to melatonin.  You make serotonin from the amino acid tryptophan.  But, when you are stressed for an extended period of time, serotonin depletion can happen. 
Did you know that 95% of serotonin is made in the gut?  Because the gut and brain are so closely linked, both stress and poor diet can lower serotonin. 
There are literally dozens of studies that show low serotonin and tryptophan levels lead to insomnia.  Some of the symptoms of low serotonin are waking feeling unrested, inability to stay asleep after getting there, and lying awake all night.
For many years now, studies have proven that the amino acid tryptophan (which is a precursor to serotonin), produces great sleep.  In fact, it has been shown to improve mental clarity in the day.  It can also be helpful for depression, pms, fibromyalgia, and anxiety as well as carbohydrate cravings and alcoholism.
Recently, I have learned through Functional Medicine that zinc or B6 deficiency can lead to insomnia. When you are deficient in B6, it can literally keep you awake all night.  Or, low zinc can cause a B6 conversion issue, which is needed to make more tryptophan and serotonin. 
6 STEPS YOU CAN DO TO FINALLY SLEEP
1 . De-stress – Try to turn off all electronics an hour before bed.  Meditate and deep breathe.  Both of these techniques have been shown to reduce the stress response in the brain. You can also try to laugh more during the day.  Laughter will help to reduce over all stress.  Lastly, re-evaluate your life and make sure you are leading from your heart not your head.
2. Stay away from PLASTICS – Too many plastics in your body lowers zinc.  Zinc is needed to convert B6 to an active form to produce tryptophan and serotonin.  So, Cut Plastics Out!
3. Optimize your gut health – 95% of serotonin is made in your gut.  If you have gas and bloating, alternating constipation and diarrhea, indigestion etc. The chances of curing your insomnia are not high.  Make sure you are eating whole foods, cutting out sugar, alcohol, caffeine, wheat and all gmo foods, corn and corn derivatives and soy.  Contact a good practitioner to help put a plan together for yourself.  I can certainly help!
4. Optimize your minerals – Make sure you are eating foods and even supplementing with a good multi-mineral.  Healthy chromium, vanadium and manganese help prevent blood sugar imbalances and frequent wake up. 
5. Eat plenty of B Vitamin rich foods -  You can increase B Vitamins using foods like nutritional yeast, nuts and seeds, fish, chicken, meat, eggs etc. 
6. Try out Tryptophan or 5-HTP – These are supplements that are a precursor to serotonin.  Serotonin is a precursor to melatonin which is our sleep hormone. 
*I should mention that if you are on SSRI's or anti-depressants you should not supplement with Tryptophan or serotonin as they interact.  *
*Of course, you should not start any new supplement or health regime without contacting your doctor. 
There are so many root causes to insomnia! If you would like help to get to the root of your insomnia along with a health protocol, contact me!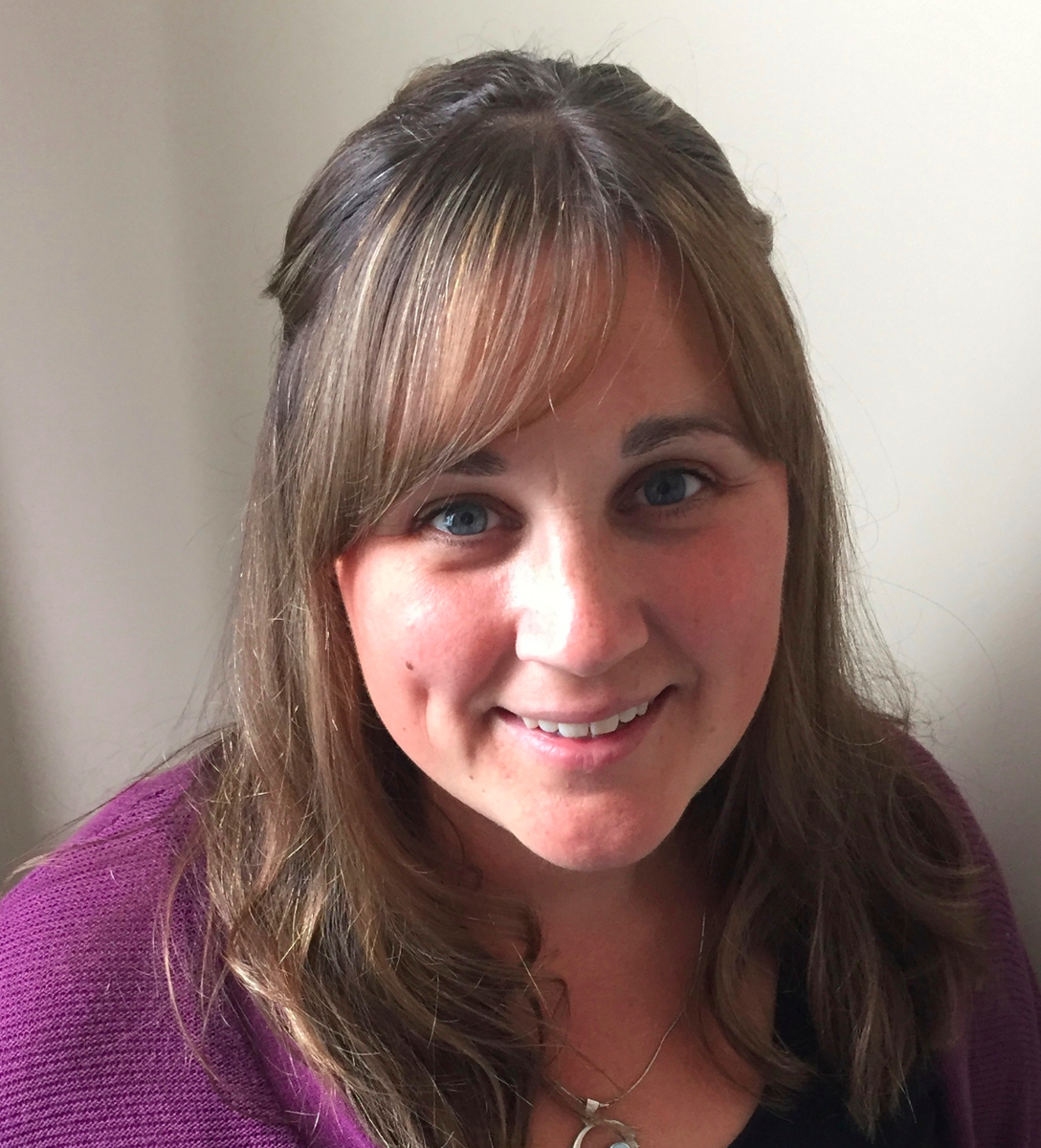 Click here to contact Keri Dennis-Fulmore
| | |
| --- | --- |
| The Most Important Thing I Did To Facilitate My Healing! | Tuesday, March 14, 2017 |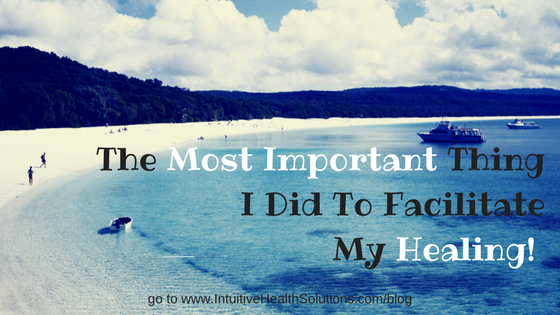 One of the things that came up for me on my journey to wellness was a lot of fear in trusting new things. 
Would this new treatment make me better or worse? 
Could I handle the changes if they were not favourable? 
Did this person really know what they were doing to treat me properly?
What I didn't realize was this way of thinking was the wrong approach entirely.  I was living in fight or flight.  I was living in a fear-based mindset.  I expected the worst, so I would not have the rug pulled out from under me.
With every new treatment I had oodles of hope, but deep down I was scared of the outcome.  At a core level I didn't think it would work.
This way of thinking never brought me the right therapies or the right environment for healing.  All it brought me was more fear, more pain and even more of what I didn't want in my life….  STRESS!
Did you know that this type of negative thinking, also called 'worse case scenario thinking' is seen and felt as stress to the body?
Stress is not something you want to be dancing with on a daily basis.  Chronic stress will NEVER open you up to Health and Healing.  It actually creates the opposite effect.  
It took me a long time to realize that I was blocking my own healing by the way I was thinking. 
I was causing myself stress!
Stress and Healing
The funny thing about stress is that people often do not even realize that they are stressed!
I didn't. 
I was happy with my career, my family life, my marriage, my life seemed flawless at the time!
So, if someone asked me if I was stressed, I would have said no.  I loved my life.
I had no idea that my own thoughts, my innermost darkest thoughts, that played around in my mind day after day could be causing so much turmoil for my body.
I was a 'worst-case scenario thinker.' 
Even worse than that, I was hard on myself.  I didn't except myself for what I was.  I didn't love every inch of myself.  Instead, I judged myself everyday. 
When constantly thinking that the other shoe is going to drop, or wishing for something better than what's there, it causes a huge amount of stress to the body.
I found that De-Stressing and checking in with myself everyday was paramount for my healing.
4 Simple De-stressing Techniques for Self-Healing.
1. Check Your Thoughts – If you are prone to worry and fortune telling about the outcome of your health and future, there are simple techniques.  I found that when I had a fearful thought or worry, I stopped and asked myself, "I am 100 percent sure that what I am thinking is true?"  
If the answer is "no," I let it go.  Unless you are sure of the outcome, don't give it energy.  I have also found that asking myself, "Will this matter tomorrow?" Is just as important. 
If what you are worrying about will not matter tomorrow, what is the point about stressing about it?  Be sure that what you are giving your energy to is worth it!
2. Meditate and Deep Breathing – Meditation and inner reflection is really important for self-healing.  Your body has all of the answers that you need when it comes to healing.  Taking the time to get quiet with yourself to ask your body why you are having a certain problem is important.  With practice you will hear your inner voice and it will 'no doubt' guide you to healing.  So don't forget to ask!
Deep Breathing is just as important   A deep breathe lets your body know that you are relaxed and there's nothing to worry about.  It also engages your parasympathetic healing response.  This is the opposite of your stress response.  Because stress is the number one cause of most health issues, deep breathing is essential.
3. Positive Reinforcement – It does a body no good to think judgemental or hurtful thoughts towards one's self.  It is important to stop negative self -sabotaging thoughts in their tracks and reinforce it with a positive statement.  This tells your brain that you are not stressed and everything is ok.

4. Do Something Joyful – Most people can get really caught up in their health issues.  It can bring about melancholy, depression and even anger.  It is important to counter act those feelings with joy. 
Did you know that laughter heals? Or that a smile, even if faked can release feel good hormones in your body.  Feel good hormones are what you need to heal.  Watch a comedy, do laughter yoga, smell some flowers, call a good friend, or simply think about something that brought you joy (really visualize it).
These are just a few techniques to get your started.  Doing them on a daily basis will help to increase your vibration, keep your body out of stress, and keep your moods positive.  It can even heal.  When your vibrating at a higher frequency, you attract all that you need to be well.
| | |
| --- | --- |
| Can YOU Self Heal? Find Out How I did it. | Monday, February 27, 2017 |
Have you ever wondered if SELF HEALING was possible for YOU?  
Perhaps you have read stories of miraculous healings in other people.  
I too wondered the same thing when my life turned upside down.  I was doing great.  I was eating all the right foods, exercising, loving my children, had a loving husband, but I learned that wasn't enough. 
One day suddenly out of nowhere I found myself in the 'dark night of the soul', or a very tomultuous health storm.  I was crippled with head to toe pain, burning, shaking, tremors and crippled posture.  I could barely get out of bed, let alone take care of my kids.  Doctor's told me I was normal and there was nothing wrong with me.  I had lost all hope.  
I didn't believe healing could happen to me, that is until I decided to take my power back.  Until I decided to take healing into my own hands.  
Find out what I did to heal my body in video below......  and what you can do to!
You are more powerful than you could ever imagine and if I can do it, so can you!
Self Healing Video
| | |
| --- | --- |
| Control Your Energy, Control Your Health! | Monday, February 13, 2017 |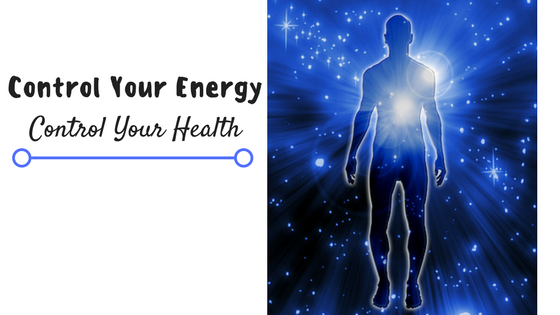 It is very hard to heal and be healthy if you don't have control of your energy.
Your energy is your power… What you do with it determines your outcome. 
People come to me to receive Energy Healing because they are unhealthy.  They are unhealthy because they are not in control of their energy.  The main reason for this is because they never learned how to.
So, how do you control your energy to be healthy and stimulate self-healing?
One of the easiest ways I have found is through Medical Qi Gong. 
What is Medical Q Gong?
Medical Qi Gong is an ancient Chinese Medicine practice that incorporates breathing, movement, meditation and visualization.
It has a 5000 years old rich history of helping people take control of their health, healing and longevity.
For along time Qi Gong was kept a secret in certain families in China because of its special healing power.
Qi Gong is now practiced throughout the world.  In China it is used in some hospitals by patients with 'so-called incurable illnesses' such as cancer, diabetes, heart disease, severe depression, paralysis and systemic lupus.
The results are amazing!  Through daily Qi Gong practice people have overcome illnesses because they clear out old blocked energy from their bodies that created poor health and replace it with healthy energy.
Think of your energy like your home.  If you continually bring trash into your home and never get rid of it, your home eventually fills up with trash and you will have a mess that is overwhelming to clean up. 
With your own energy trash is inflammation, negative emotions, bad attitude, poor eating habits, electromagnetic frequencies (EMF), lack of exercise, etc.  Overtime trash builds up and changes your energy creating different health issues depending on what you have a genetic disposition for if nothing is done about it.
By creating a daily practice of clearing unhealthy energy from you and replenishing it with healthy energy you stop the buildup and more importantly you create balance in your energy.
There are many ways to create positive energy in yourself:
Laughter & Joy
Unconditional Love & Self-Love
Positive Beliefs - i.e. "I am healthy"
Positive Visualizations
Exercise
Why I like Medical Qi Gong so much is it incorporates all of these energies.  No wonder it is so powerful for healing, prevention and longevity.
The benefits I have personally found from daily Medical Qi Gong are:
More energy
Heightened intuition
Fast recovery time of injuries, colds, flus, etc.
Calmer mind
Better coordination and balance
Want to learn Medical Qigong?
I am teaching FREE weekly Medical Qigong Classes on Facebook Live.
Where: Intuitive Health Solutions Facebook Community
When: Wednesday's @ 12pm EST/9am PST
Start: Wednesday February 15th
Length of Class: 20mins
* Replay will be available to watch if you can't make it to live class.
| | |
| --- | --- |
| Boost Your Immunity In Winter | Thursday, January 19, 2017 |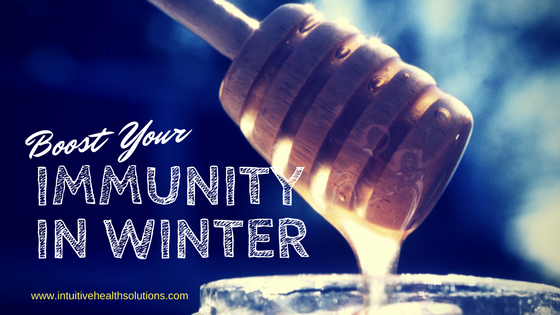 January is said to be the month that hosts many dreaded colds and flu bugs.  Not only that, but it is historically known as one of the most depressing months in North America. 
Why is it a dull month to many? I think it is the lack of sunshine, flu's and colds, and a dull feeling after the excitement of the holidays. 
Many people find themselves battling cold after cold, having less energy than they would like and even feeling alittle blue.
But, rather than grab for cough syrup and cold remedies, how about boosting your immune system so you are rock solid and don't get sick at all?
Wouldn't you like to cruise through winter healthy, happy and have boundless amounts of energy?
I know I would!
Lets Clear Some Things Up First
Many people believe that if you go out into the cold weather dressed improperly, you will catch a cold.  Whether that is an old wives tale or a good parental scare tactic, it's just not true. 
Cold weather actually boost your IMMUNE SYSTEM.  Going from cold to hot gets your lymphatic system moving, heart pumping and immune system engaged.  It's like giving your immune system a workout!
What About the Germs?
Do you think that there are actually more germs floating around in the winter than in the summer?
Not true!
The germs are still there.  It's actually the sun's UVB & UVA Rays that increase your absorption of Vitamin D keeping your immune system strong in the summer months.   
Yes, you still get Vitamin D in the winter just less is absorbed from less UVB & UVA Rays.
I should mention that people are generally happier in the summer.  With happiness comes less stress, and since stress is a major immune system inhibitor, it's no wonder less people get sick in the summer.
Could It Be Less Exercise?
Like it or not, for the most part, people are not as active in the winter months.  They stay indoors more often than not, and don't engage in as many sports.  Even getting to the gym can prove to be a big feat for some. 
Exercise improves circulation, stimulates the immune system, detoxifies your body and raises energy levels.  Not only is it essential for good immunity, but it gives you a good boost of 'feel good hormones.'
So, exercise is essential for warding off flu bugs for sure.
7 Tips for Increasing Immunity
1. Exercise – Make sure that you are getting at least 30-60 minutes of exercise daily.  This will increase your immunity, help you stay strong and fit and give you the 'joy du vive' you are looking for in the winter.
Have you ever noticed that people who exercise in the winter are happier?
2. Vitamin D – Supplement with Vitamin D to increase your body's immunity in the winter months. Vitamin D helps you fight infections of all kinds. 
A study in Japan, showed that school aged children taking Vitamin D everyday during the winter, reduced their risk of catching the flu. 
The recommended daily intake of Vitamin D is 1000 iu for adults.  But, I have found that most people living in the Northern Hemisphere require more to maintain optimal levels.  Make sure to get tested with your doctor to see where your Vitamin D levels are.
You can purchase Vitamin D at health food sotre or online:  Click here for Vitamin D 
3. Get Adequate Rest – Let's face it, even with the dark days upon us, a lot of us have a tendency to stay up way too late.  Lack of rest not only decreases your body's energy, but also increases your stress levels.  Stress lowers immunity.
You should be striving to get to bed by 10pm everyday to keep your body's energy up and therefore your immunity.
4. Probiotics – One of the best immune boosters are good flora or Probiotics.  Did you know that good good flora make up the first line of defense for your immune system.  Good flora also create about 80% of your immunity.  So, it goes without saying that to have great immunity, you definitely need to have a strong gut health.
I personally supplement with good flora containing fermented foods like kefir and kombucha on a daily basis. You can also use Probiotics, which can be found in your natural health food store or in my store.
Make sure you buy a Probiotics that are stored in the fridge to maintain potency.
5. Herbal Immune Boosters – There are many Herbal Immune Boosters you can use in the winter for both prevention and treatment.  The key is consistency.  My favorvites include:
Echinacea
Goji Berries 
Maitake Mushrooms
Astragalus Root
Pine Needles
Echinacea – This is one of the more commonly known immune boosters, but I find that it is not always used correctly.  Echinacea is widely used to fight infections, especially common colds and other upper respiratory infections.  I have also used it at the first signs of mastitis quite effectively. The key is to use it at the first signs of infection: virus or bacteria.
So how do you use Echinacea?
Firstly, it's more potent and effective to use a tincture made from fresh Echinacea rather than dried.  Dried Echinacea has normally lost a lot of its potency. 
Echinacea tincture can be used on the first signs of a cold or flu.  But, 20-30 drops two to three times a day is usually not that effective.  For the first sign of a cold or infection, Echinacea can be used safely every 1-2 hours 1tsp or 30 drops, until the cold or infection subsides. 
As always if you have an infection that does not improve, you should always see a doctor.  Also, if you have an auto-immune disease you should speak with a practitioner before using it.
You can purchase Echinacea at health food stores or online.
Goji Berries – For more than 5000 years the Chinese have used Goji Berries as part of their traditional medicine.  It's known as 'The Fruit of Longevity;' having amazing immune enhancing qualities.
Goji Berries are loaded with Vitamin C and I love to get it from natural sources. 
Most Vitamin C supplements found on store shelves are derived from corn and most likely genetically modified (GMO).  So that's a big win for Goji Berries.
Goji Berries also reduce inflammation, improve resistance to cancer cell growth, nourish blood, reduce allergies & dizziness, improve vision and even help with low back pain. WOW!
You can buy Goji Berries in health food stores, grocery stores and online.
Maitake Mushrooms – They contain Beta Glucan, a compound responsible for immune support and macrophages, which are immune cells that eat up viruses.
In addition to that, Maitake mushrooms help turn on natural killer cells (NKC), which give viruses the 1-2 punch combo out of your body!
Lastly, they are loaded with polysaccharides, reduce inflammation, help with collagen production, energy production and so much more. 
I'm sure that in future studies we will see more amazing qualities of this mushroom.
You can buy Maitake Mushrooms in health food stores or online.
Astragalus Root - This is another herb used in Traditional Chinese Medicine as an ENERGY & IMMUNE BOOSTER.  It's known as an adaptogenic herb, which means it lowers your stress hormone cortisol.  Stress hormones inhibit your immune system, so Astragalus is a powerful herb to keep on hand. 
Astragalus also strengthen the lungs, which can lessen your susceptibility to respiratory infections and viruses and contains antioxidants that reduce inflammation. 
This is something I like to take everyday in the winter to keep my immune system top notch.
You can buy Astragalus at health food stores or online.
Pine Needles – Did you know that pine needles are extremely high in Vitamin C & A?  Not only that, but they are also a very powerful antioxidant, antiviral and immune system powerhouse.  Pine Needles have been used for eons by native communities to boost Vitamin C levels, prevent cold and flu. 
Pine Needles are great for preventing oxidative stress, beneficial for your skin and hair, and even have been known to improve vision.
Pine Needle tea also is antiseptic, helping to prevent bad bacteria and microbes from affecting your body.   They also help treat respiratory cold and infection by expectorating phlegm and neutralizing pathogens found in the sinuses. 
All you need are some Pine Needles and a pot of water.  A good handful will do.  Just bring water to a boil, turn off, put Pine Needles in pot, cover and let steep for 15-30mins.  Strain and enjoy. 
6. Local Raw Honey – Honey is perhaps one of the best immune system boosters out there.  The world health organization lists honey as a demulcent, which treats coughs.  I have used it for dry cough quite successfully.
Raw honey contains bee pollen, which is also known to ward off infections, prevent allergies, and is a natural source of energy.
Honey has been extensively studied and has been shown to increase disease fighting polyphenols in the blood.   Polyphenols are part of what makes honey a great choice for both prevention and treatment of colds.
7. Laughter - They say laughter is the best medicine.  I think this is more true than we realize. Not only does laughter increase our sense of well being, inner happiness and energy, but it creates a strong immune system.  
It is one of the easiest ways to boost immunity.  
I think that as adults we tend to laugh less than children.  Perhaps we should take a tip from the kids and be more care-free in life?  
So, how can you bring more laughter into your life?  Make a commintment to laugh everyday, even if there is nothing to laugh at.  Some would call this Laughter Yoga.  Simply laugh.  Soon you will be laughing at how silly it is and it will become infectious.  
You could also make time to watch a comedy, visit friends (this usually brings about some laughs) and even play with kids.  It doesn't matter how you do it, just make time for laughing each day. 
| | |
| --- | --- |
| 7 Solutions to Balance Hormones | Thursday, January 5, 2017 |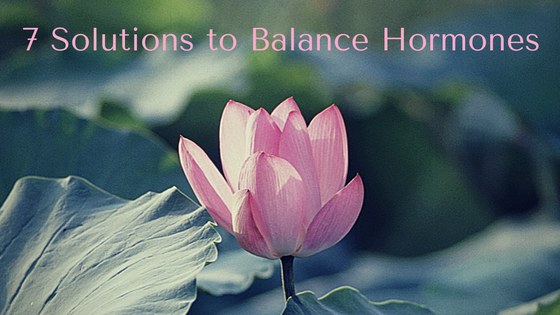 When most people think of hormonal imbalances, they're often left with the image of a woman who is tired, not sleeping well, feeling awful with crazy mood swings.
But, what if I told you that going through hormone changes happens to everyone, men included, and it doesn't have to be uncomfortable!
The trouble is that most people don't associate many symptoms of hormone changes with their hormones at all.  They wind up going from doctor to doctor and feeling no better.
For women, most of our hormone changes happen in the 40s and 50s, but some, can even have these changes in their early 30s.  However, when I see hormonal fluctuations happening in a woman's mid thirties, it is a sign to me that her lifestyle, diet, exposure to toxins and most importantly stress is too high.
For men, the most significant hormone changes happen in the 40s into early 60s.  Men can show signs of early hormonal changes as well, and not connect the dots.  Again, environmental toxins, lifestyle and way too much stress are at the root of early changes.
Most Common Symptoms of Hormonal Imbalances
Fatigue
Do you wake up foggy and feel like you need more sleep?  Do you feel sluggish and turn to coffee and other stimulants to pick yourself up?  This may get you through to the afternoon when you crash and feel like someone drained your battery.
A nap would be great, but instead you turn to more stimulants to get you through.  These are common symptoms of Adrenal Fatigue.  Not only is it a sign that you need to De-Stress your life, but that more focus needs to be put into nourishing yourself and building up your adrenal glands.
But, please DON'T forget the emotional, mental aspect of adrenal healing, as supplements are not usually enough.  It can take an overhaul in your mind body connection as well as your lifestyle to fully heal.
Insomnia and Frequent Waking
Do you spent most of your day tired, but when you finally lie down to sleep, you just can't seem to drift off into peaceful much needed sleep?  
Not only that, but do you also wake frequently and have a hard time getting back to sleep?  
Perhaps you turn to sleeping aids whether they are pharmaceutical or natural. Will you ever sleep without them again?
This is often a sign that your Cortisol (your stress hormone) is too high at night.  It is a sign from your body that your way of life needs changing. Your inner thoughts need to be addressed.
Frequent waking at night is also a sign that your body is not detoxifying well enough.  
Many people wake between 3-5 am and cannot fall back asleep.  In Traditional Chinese Medicine (TCM) there are specific times of day that show where most of your energy and blood is.
Between 3-5am is the time of the liver.  So, if you are waking during this time, it is likely a sign that your liver is out of balance, stressed and or overburdened with toxins.  
Persistent Weight Gain and Weight Loss Resistance
You can't understand where all this weight is coming from, especially in your midsection.  You watch your calories, make sure to exercise, but alas, you are still putting on weight.  Is weight not supposed to be all about calories in calories out?
In most cases this is a sign that your hormones have taken your metabolism hostage.  Most often it is a sign that your adrenal glands are secreting way too many stress hormones, your thyroid may be sluggish, even if your blood labs are normal, your body could still not be getting enough thyroid hormones in the cells.
Not only that but estrogen dominance in both men and women can really create the perfect fat storage recipe.
Needless to say, that most of the time, stress is the biggest root issue.  When there is too many stress hormones, the adrenal glands secrete too much Cortisol and begin to steal sex hormones to make more Cortisol, depleting them.  
When your body is stressed, detox pathways can also become sluggish, which affect the conversion of T4 to T3 (thyroid hormones) in your liver.  
Poor Digestion
Your digestion can be directly affected by hormone changes and imbalances.  Woman, you know what I'm talking about when I say that hormones can cause loose stool, gas, bloating, constipation and even indigestion.  
A woman's cycle can often bring with it digestive woes.  But, one of the symptoms of hormonal imbalances is chronic or cyclical digestive issues.  If you have bloating and gas among other digestive symptoms, it is worth it to think of your hormones as a culprit.  Of course your diet should be looked into for improvements.
Hair Thinning
Hair thinning is often a sign that androgens and testosterone levels are out of balance.  Even for women, testosterone and androgens can be too high and contribute to hair thinning, especially in the front and on top of the head.  
Aging does not have to affect your hairline.  Keeping your hormones balanced is part of keeping your youthful thick and lustrous hair.
Sweating
Many women experience hot flashes and night sweats as a sign that their hormones are changing.  However, this does not have to be the case.  
It is a sign that the body is out of balance and needs some hormone assistance.  This does not have to include hormone replacement therapy, but instead can be done by addressing the entire endocrine system along with getting the detoxification pathways working efficiently.
Low Sex Drive
Have you lost interest in sex?
Loss of interest and lack of performance can be linked to hormonal imbalances.  Often, once hormones are optimized, your sexual vigor returns.  Boosting and balancing hormones is a good way to do this.
7 Solutions to Balance Your Hormones
1.  De-Stress
I find that most hormone imbalances begin with stress.
Chronic Stress
Drains your hormones
Inhibit your hormonal detox pathways
Reduce good bacteria in your gut
Steals sex hormones to make more stress hormones
All of this can leave you fatigued and in hormonal hell.
Make sure to cut the stress out of your life.  Follow your heart, breathe and even meditate.  But most of all, your body is crying out for attention and love, so make sure you pay attention and take the time for self-care.
2.  Hormone Balancing Diet
Cut out all of the junk.  No more sugar, alcohol, gluten, packaged or processed foods, corn or corn derivatives, soy or even coffee.  Instead try to feed your body nourishing whole foods that are anti-inflammatory, nourishing and hypo-allergenic.  Often, diet can be enough to ease a lot of hormonal symptoms just in itself.
3. Fibre
Fibre will help to keep your bowels regular, which will help to keep excess hormones from reabsorbing into your body.   Fibre from ground flax seeds, ground pumpkin, chia seeds are quite helpful and not dehydrating.  
Start slow with fibre and work your way up to at least 35 grams of fibre per day.  Extra fibre feeds the good bacteria in your intestines so that you can have happy and healthy digestion.
4. Eat Fat
Make sure that you are taking in enough good healthy fats.  Fats are necessary for the production of hormones, anti-inflammatory, brain nourishing and often help with all sorts of hormonal symptoms.
Healthy Fats are:
Avocado
Coconut
Grass fed organic butter
Omega fish oils (higher in EPA than DHA)
Algae (spirulina, chlorella & E3Live)
I have found fats helpful for hormone symptoms like insomnia, dry eyes, weight loss resistance, fatigue etc.
Nordic Naturals is a great Fish oil to supplement your fat intake.  You can buy Fish Oil here
5. Probiotics
Your hormones are connected to the health of their digestive tract.
The digestive tract excretes excess and toxic hormones and good bacteria (good flora) assists with hormones optimization.  
Anyone dealing with hormonal issues should be looking to healing their digestion and supplementing with a good quality probiotic like Natren and Metagenics.
You can read more about Metagenic probiotics here
Another good way to increase good flora in your digestive tract is to make and eat fermented foods like sauerkraut, kefir and kombucha.  
Just a little bit of ferments with each meal can introduce billions and billions of good bacteria into your body.  
6. Exercise
Exercise helps to detox your body through the skin, gets the lymphatic system moving and even helps to keep your hormones balanced.  
It is a good idea to get an hour of exercise a day.  If an hour is too long, start small and slowly work your way up.
7. Get Tested
Figuring out where your hormones are in your blood and cells will help you to know exactly what to take to balance them.  
I recommend the Dutch Steroid Urine Hormone test to know what hormone pathways are out of balance.  
A blood test will show your estrogen levels, but it will not show which estrogens are high or low in the body.  
A urine test shows the good and unhealthy estrogens.  It will also show if your testosterone hormones are being converted properly, your androgen levels, adrenal hormones and even your Dhea levels.  It is very helpful in solving the hormone puzzle.  I offer this test if you are interested.
There are also many herbs and tonics that can help to balance hormones.  It is recommended to work with a qualified practitioner to make sure you are taking the right things for your body.  There is no one program that works for everyone!
To make an appointment with me email keri@intuitivehealthsolutions.com.  I am here to help...
| | |
| --- | --- |
| Discover How to Improve Your Health for FREE! | Wednesday, December 14, 2016 |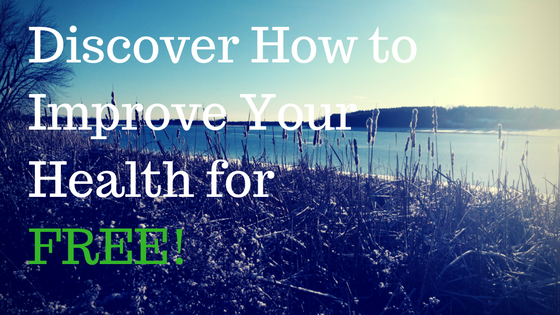 Have you ever noticed how good you feel when you spend time in nature?  If you do not know what I am talking about, it is time to get out into nature.
Nature is in a constant state of UNCONDITIONAL LOVE and it gives without expecting anything in return.  Unconditional love is what all the great sages and healers like: Jesus, Buddha, and even Mother Theresa embraced.
We have a lot to learn from nature.
Albert Einstein understood it when he said, "Look deep into nature and then you will understand everything better."
I have noticed, in general, people who spend little time in nature have more health issues.  Is there a connection?  Personally, I believe there is and you might think so after reading the scientific health benefits below.
First, I would like to share with you how nature has favourably impacted my life.
I find time spent in nature helps return me to who I am….my natural, balanced state…. I believe nature does this for everyone.
It happens because being in nature, naturally, aligns you with the healing vibration of unconditional love.  When in a state of unconditional love, your stress melts away and your body can heal much faster.
You breathe in more oxygen, as well as, therapeutic scents of trees and plants.
8 Things Nature Has Taught Me
Slow down and enjoy the moment
Unconditional love
Inner peace
Forgiveness
Adaptability
Energy Medicine
Herbal Medicine
Wild Food
The famous Chinese philosopher, Lao Tzu said it well, "Nature does not hurry, yet everything is accomplished.
I like to walk in nature every morning before I start my day.  Also if I have had a particularly stressful day, I like to go into nature as it is naturally therapeutic.  I have also found my intuition has been enhanced by spending time in nature.
For years, I have been intuitively guided to daily spend time in nature in order to balance myself and improve my health.
And guess what, science has done several studies that prove this is exactly what is happening.
Scientific Health Benefits of Nature
Improved short-term memory
Restored mental energy
Stress relief
Reduced inflammation
Better vision
Improved concentration
Sharper thinking and creativity
Anti-cancer effects
Immune system boost
Improved mental health
Reduced risk of early death
If you are struggling with any health issues, I challenge you to daily spend time in nature and see how much your health improves.   
All health issues are a sign the body is out of balance and not in its natural state.
Positive Improvement of Health Issues With Time Spent In Nature
Memory problems
Mental fatigue
Fatigue
Autoimmune disorders
Inflammatory bowel disease
Depression & anxiety
ADHD & ADD
Cancer
Hypertension
Myopia (nearsightedness)
If you want to enhance your health… get out into nature.  Its therapeutic benefits are FREE!
I would love to hear any comments you have about nature.  Share them below in the comment section.
* Click here to read scientific studies done on people in nature. 
| | |
| --- | --- |
| 5 Techniques to Reduce Chronic Stress and Pain | Wednesday, December 7, 2016 |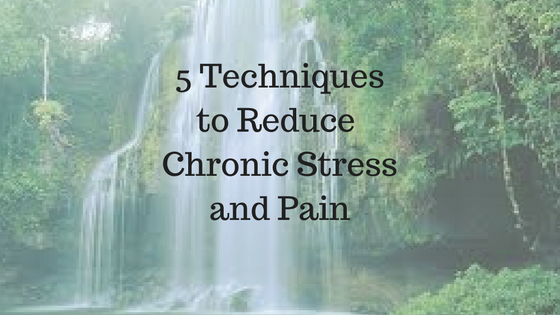 I am no stranger to chronic pain.  Not only did pain dominate my life for 4 years, but it also substantially  increased my level of stress.  It is not easy living each day with pain.
Along with pain, most people deal with varying levels of depression and stress.  I know I did.  It takes a Jedi mindset to ignore pain and push through each day.
But, did you know chronic pain may not be a physical problem?
Yes, pain is real, and what you are physically feeling is too.  
But, what if I told you that the key to alleviating most chronic pain is in the mind!
It has been scientifically proven that many chronic aches and pains are actually rooted in the brain.  As with our emotions, negative mental chatter, and an inability to cope with stress can actually affect different brain centers and manifest in the body.
In other words, your mind is able to refer pain into the physical body.
Do you have pain in your body with an unknown cause?
Or perhaps you have found its cause.  But have you ever noticed some people have the exact same issue and have no problem at all?  
No Pain At All.
In the book, The Hidden Psychology of Pain by Dr. James Alexander, he talks about John Sarno's work.
John Sarno found conventional medicine actually knows  little about chronic pain.  He observed in his research that there was no neat relationship between damage in the body and an existence of pain.  In other words, people with chronic pain, when examined with x-ray and other diagnostic tools, were found to have no structural abnormalities at all.
It was also found that a high percentage of people, who participated in the research showed evidence of structural pathology of the spine, but had no pain at all.
How can that be?
Could it be that the key to healing chronic pain is in the mind?
Throughout Western and Eastern Medicine, there are countless stories of people healing their pain via the mind.
Placebo Effect
In Western Medicine, it is known as the placebo effect and  has been observed in numerous controlled, double blind studies. One group of people receive the medication, while the other group get a sugar pill which they believe is the medication.
What is interesting here is just as many people heal who believed they received the medication, as those individuals who actually did.  People healed, because they believed the medication would heal them.  Their belief and their mind healed their bodies.
Have you used a placebo to stimulate healing?
In Eastern Medicine, meditation appears to work for pain relief, as it reduces brain activity in your somatosensory cortex.  This area of the brain determines where the pain is felt and its intensity.  
More than that, Eastern Traditions are now exploring the power of your thoughts as a mind body therapy for pain.
Methods like Neuro-linguistic Programming and Cognitive Behavioural Therapy help to reprogram a person's response to pain, as well as, change negative thought patterns which stimulate a chronic stress response.
I have had success with some of these techniques.  Not only did these methods help muffle the pain I was feeling, but also helped me be at peace in my body, no matter the situation.
5 Techniques to Reduce Chronic Pain and Stress
1.  Mindfulness Meditation – Mindfulness is a very effective meditation technique for relaxing mind and body, and dialing down a stress response.  It has been proven effective for pain relief and pain management.  Mindfulness is simply becoming aware of your breath, relaxing your mind to such a point where you lose track of your body.  Your body becomes so relaxed that all pain is diminished.
Mindfulness meditation puts you into a deep, theta brain state where anything is possible.  Pain becomes more manageable and in some cases disappears, and you find yourself in a more peaceful, happy state in your day to day life.
2.  Hypnosis –Hypnosis is a scientifically verified and effective technique that allows you to tap into your subconscious mind and promote change.
Hypnosis enables you to create desired changes in behaviour, as well as, promoting emotional, mental, and physical well-being. It is a powerful, visualization technique that you can learn to use for: pain reduction and healing, weight loss, quitting smoking, anxiety and PTSD, etc. It allows you to gain control of unwanted behaviours and make changes.
3.  Cognitive Behavioural Therapy – CBT focuses on development of coping strategies to solve current problems such as: pain, depression, anxiety, as well as, facilitating conscious changes to your thoughts, behaviours, and beliefs.
Cognitive behavioural therapy has been proven to give a person practicing it new coping skills and a fresh perspective on life.  It has also been shown to be effective for pain relief.
4.  Visualization – Visualization is a technique that incorporates the power of the mind to heal the body.  In a meditative state, you see a problem you want healed being resolved.  You are essentially telling the body what you want with your mind.  You literally visualize yourself in perfect health. Some people even visualize going into their problem such as pain and watch it healing.  The mind is very powerful. If you believe, it can happen.
5.  Placebo Effect – This is where you choose a food or an object you believe can heal your body.  For example, you make a greens drink your placebo. Every time you drink it you believe it is healing you. Hence this green drink is your placebo effect.  If your mind believes that your chosen object will heal you, it most likely will. The trick is to truly believe!
Have you tried any of these techniques and had success?   I know I have.
I truly believe in the phrase, 'Mind Over Matter'!
Do you have a mind body success? 
I would love to hear about it....Write your story in the comment section below.
The more people who share their stories, the more others can learn what is possible and benefit.
If you would like help overcoming chronic stress and pain Sign Up for a Full Medical Intuitive Reading
| | |
| --- | --- |
| How Self-Love Can Help You to be Healthy | Wednesday, October 26, 2016 |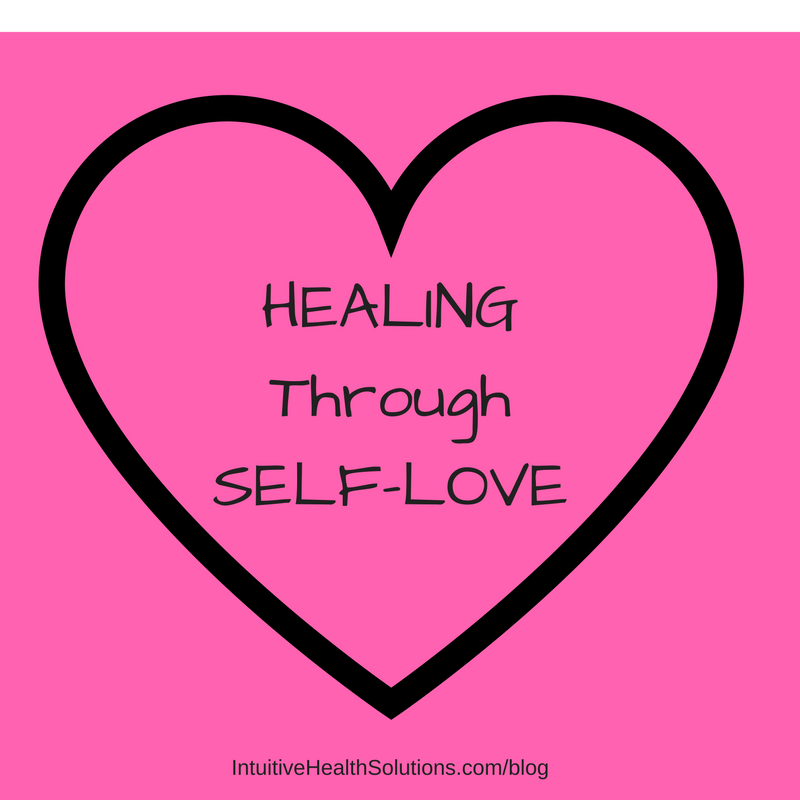 Your ability to be healthy is greatly dependent on how well you adapt.  This is because when you are adaptable and exposed to different stressors you have an easier time moving through them without being taken out by stress.
Let's face it, STRESS is unavoidable.  You never know when it will show up, the best thing I have found that can be done is have a preventative strategy and adapt to it when it does show up.
How Does Stress Effect Your Health?
Stress can be the # 1 cause of health problems because it drains your energy and makes you more vulnerable to make poor choices, which can translate to your physical body's intelligence lowering. 
Depending on the amount of energy you invest into the stressors, your body can have trouble coping and regulating autonomic functions like immunity, repairing itself, digesting food, circulating blood, breathing, balancing hormones and even regulating your sleep cycle.
There are several health issues linked to stress:
High blood pressure
Heart problems
Asthma
Obesity
Diabetes type 2
Headaches & migraines
Depression
Anxiety
Gastrointestinal disorders like chronic heartburn & irritable bowel syndrome (IBS)
Brain lesions (which are linked to Alzheimer's disease)
Premature aging
Premature death.
To prevent and heal from health issues you have to change and be adaptable.  I have found that I am much more adaptable when I am in a loving mind set.
Be Adaptable to Prevent and Heal from Health Issues
Your mental state is essential.  When stress shows up in your life make sure you view and approach it with a solution oriented mindset. 
Be aware that there is a stress, but put your attention on how to solve it rather than the problem itself. 
To prevent and heal from health issues it is important to focus on unconditional love.  If you don't know what unconditional love is, let me tell you.  Unconditional love is loving someone, something, even yourself despite who or what they are, their beliefs, actions, feelings, etc. 
I know it can be challenging to love yourself and some people because you may feel they don't deserve it, they are mean, they have done bad things, maybe even killed people.  But how do you expect you or that person to change if they only receive negative feelings, thoughts, or actions towards them. 
I have found to BE Unconditional Love, the first step is to develop Self-Love. 
Watch the video below, I explain a simple technique called Self-Love Supercharger: 9 Steps to Developing Self-Love.
It is a great exercise to do every day in the morning or when you are feeling out of balance to bring you back to a state of balance.
Self-Love Supercharger: 9 Steps to Develop Self-Love
Close your eyes and put your awareness on your heart.
While focusing on your heart pay attention to what it tells you.
Any feelings or thoughts that come up, which are not healthy or balanced feeling, let them go.  To let them go, say, "I let this go."
After your heart feels clear and balanced, say, "I love myself unconditionally."
Allow in new healthy energy to fill you up.  To help with this say, I am open to allowing new healthy energy into my life."
Integrate this new healthy energy.  To do this say, I integrate the new healthy energy in my life.
Visualize your heart being bright pink and take 7 deep breaths imagining your heart filling with pink energy and it getting bigger and expanding outward as far as you can imagine.  (You can do more that 7 breaths if you want.)
Place your palms over your heart and take 9 deep breaths with a smile on your face.
Laugh (even if it is fake).   
If you want to work with me one on one to develop your Self-Love, you can do so by signing up for a Distance Healing Session
Contributors
Latest Posts
Archive
2018

2017

September

August

March

February

January

2016

December

November

October

September
Tags
Everything
Happy
Relaxing
Outdoors
Healing
Medical Intuition
Emotional healing
stress
De Stress
Anxiety
heart health
fatigue
self-love
unconditional love
energy healing
self healing
Qi Gong