| | |
| --- | --- |
| How to Increase Your Life Force for FREE | Wednesday, November 18, 2020 |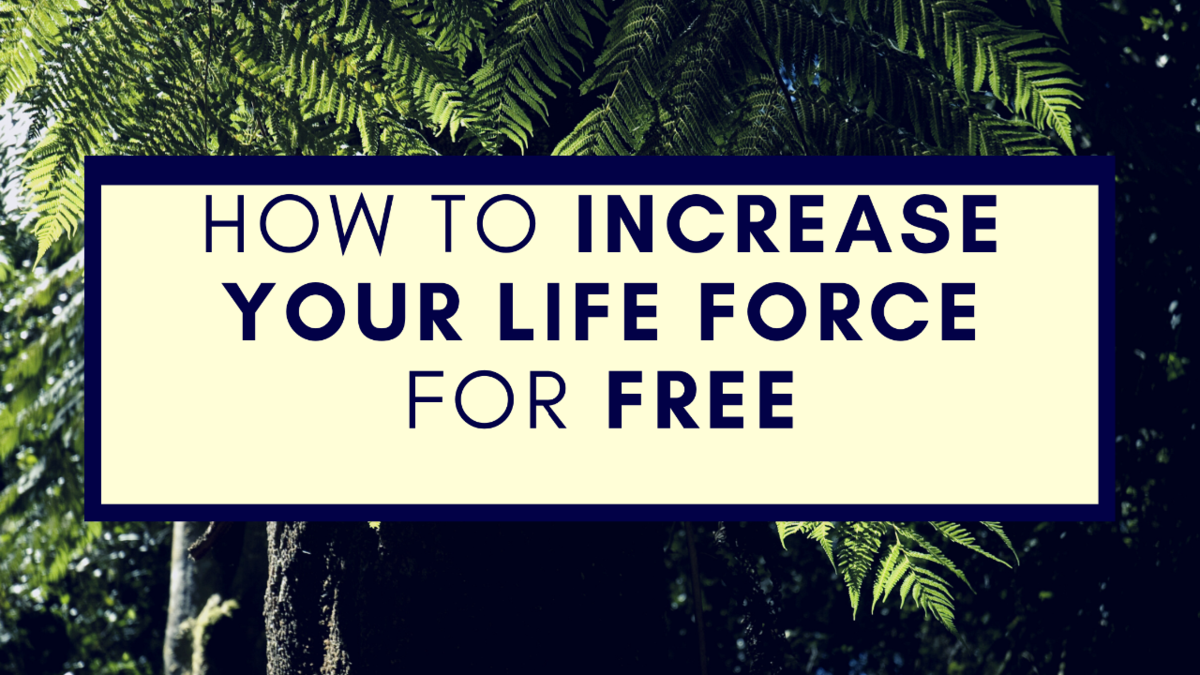 This is something I have been doing for many years and I feel that it has been a huge factor in my development and nourishing of my healing abilities, along with the maintenance of my own health.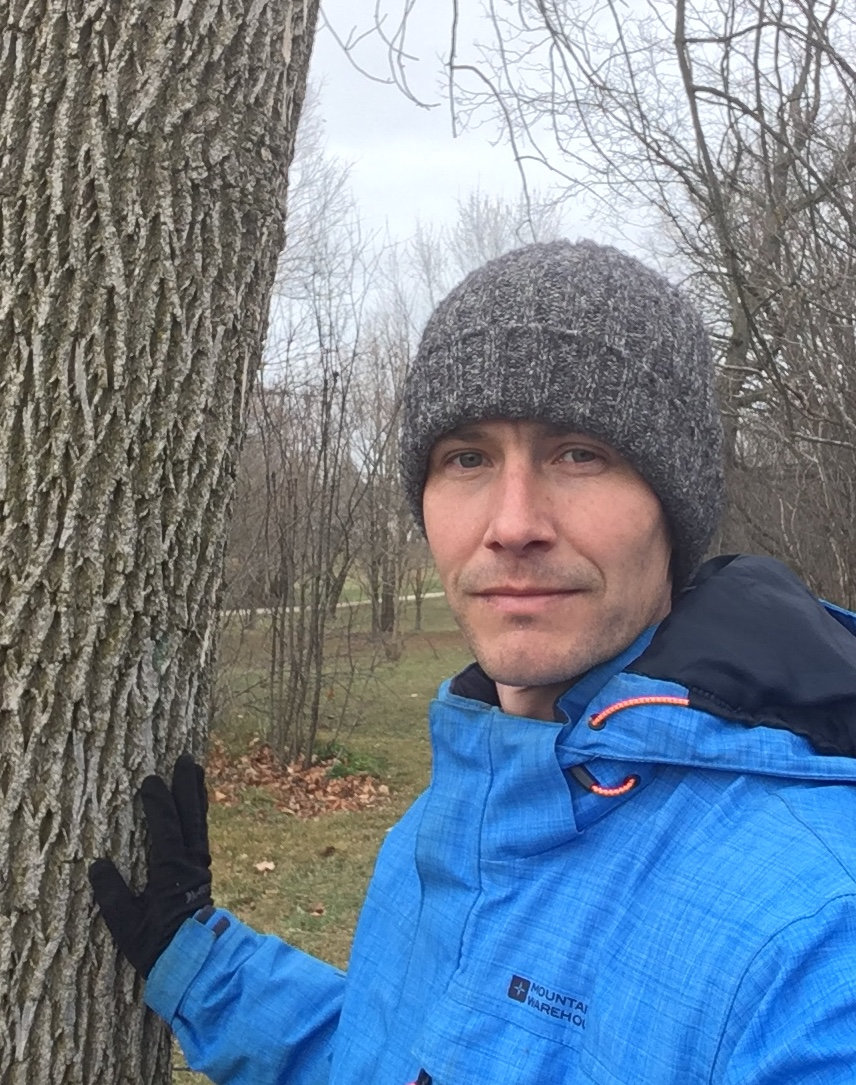 What I am referring to is Meditating with a Tree. 
You know that feeling when you go for a walk or spend time in a forest; how relaxed and balanced you feel during and after.
That is because you are taking in some of the healing energies available to you.  So, what if you took the time to place your hands on a healthy tree and allowed yourself to feel the energy that it wants to share with you on an even deeper level?
This is what I do.  More specifically, I ask if the tree has a message for me, if it has a healing for me and if it has anything it wants to share with me.
You see trees have spirits too, they are alive, and they communicate through frequency.  Once you attune to the frequency you can understand their language. But that is for another conversation. 
If you want to increase your life force, as in help your body be and feel healthier, heal faster from illnesses and injuries, become more adaptable to stress, increase your intuition and simple become more resilient I recommend doing this simple of act of Meditating with a Tree.
The act of Meditating with Trees has a long history and there are many great people throughout history that proclaimed they gained healing power and enlightenment via meditating with a tree.
Two specific people are Buddha and Jesus Christ. 
How I Meditate with a TREE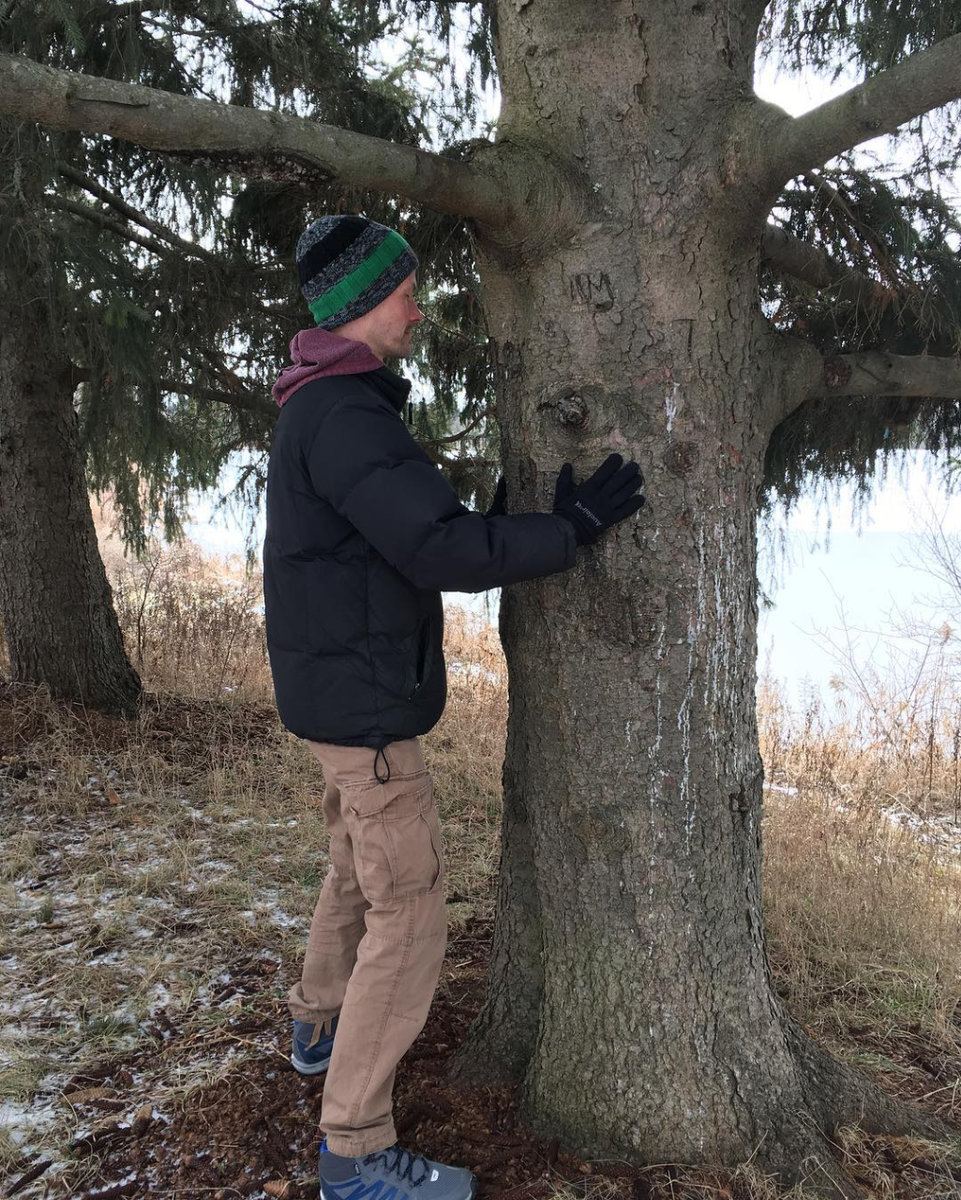 The way I meditate with a tree is I look for a strong healthy tree somewhere where I will not be disturbed (this can even be in your own yard).  I stand in front of it placing my hands on the trunk in a comfortable location with my eyes closed.  I breath naturally and allow myself to feel the energy of the tree. 
The more you do this the more sensitive you become to the subtle energy of the tree. 
If you have never done this before I recommend using the same tree daily to develop a relationship with it.  You will be amazed that overtime you will feel the love from that tree before you even touch it because it will be projecting to you when you are close by and even from further distances. 
To help deepen your relationship with the tree ask it questions like the ones I wrote above.  Along with asking it, "is there anything I can do for you?"  Trees love it when you give back to them.  This can be as simple of projecting love to them or visualizing them healthy. 
If you are hearing for the first time, it might sound strange.  But, think about it, you have nothing to lose.  If anything, you have much to gain. 
I'd love to hear from you.  Let me know if you have ever meditated with a tree and what your experience was like?
| | |
| --- | --- |
| I was Exposed to Covid-19 | Thursday, April 2, 2020 |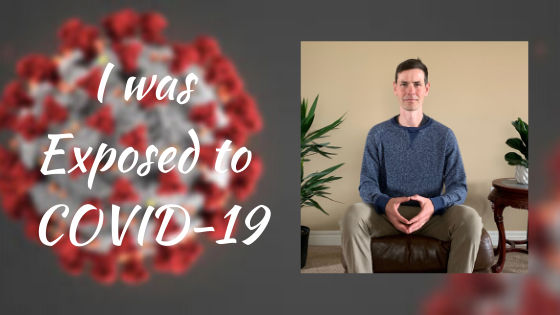 My family and I were exposed to Covid-19 on March 24.  First of all I want to let you know we are all doing good.  
We have all experienced some minor symptoms that have come and gone like sore throat, mild coughing, loss of sense of smell temporary and headaches.  Thankfully no breathing troubles or fevers.
I know we will overcome this because we have strong immune systems from eating well and we are taking specific supplements and essential oils that are supporting are immunity during this time.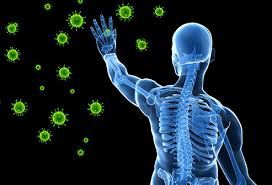 One thing Keri and I made sure to do when we first heard about Covid-19 was to make sure we had the supplements and essential oils in our house we needed in case we did get exposed.  
Another thing I do everyday is to make sure that I am connecting with the energy of unconditional love everyday.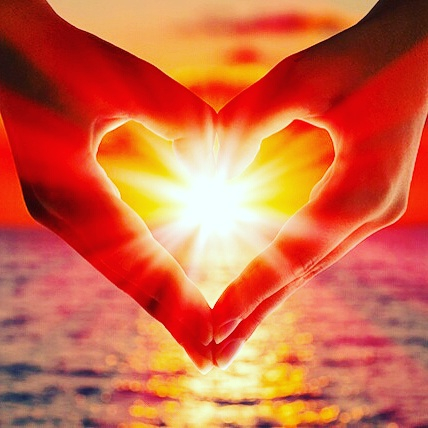 Unconditional love boosts immunity, promotes healing and clears stress.  Something that is very important with all the fear and scarcity right now. 
Information is power my friend and I want to let you know that Keri (my wife) and I are sharing everything we are doing in specific details and why we are doing it to optimize our health during Covid-19 and our recent exposure. 
If you are a person that falls into the high risk group, then this information is particularly important to you. 
High Risk Group Includes:
Age 65 years and up
High blood pressure
Cardiovascular issues
Chronic lung disease or moderate to severe asthma
Obesity
Diabetes
Liver disease
Kidney disease
Immunocompromised: including cancer treatment, smoking, bone marrow or organ transplantation, immune deficiencies, poorly controlled HIV or AIDS, and prolonged use of corticosteroids and other immune weakening medications.
If you would like to find out what we are doing, along with take part in a Group Healing to boost your immunity, ability to heal and clear stress, fear, anger, worry, sadness to help bring you back to a state of balance check here.
| | |
| --- | --- |
| What's Causing Hypothyroidism? | Wednesday, May 29, 2019 |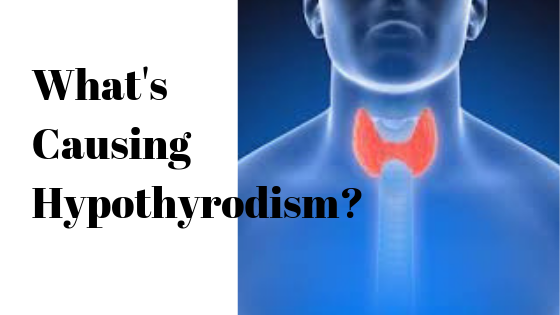 Levothyroxine (generic for Synthroid) is one of the most prescribed medications in North America and it's for Hypothyroidism (underactive thyroid). 
Underactive thyroids appear to be an epidemic, but why are they so prevalent?
Let's first get clear what a healthy thyroid does. 
Your thyroid produces hormones to regulate metabolism, healthy growth and development of your body.
On an energetic level your thyroid creates balance within yourself that creates a sense of calmness and shields/protects your body from negative energy like other people's negative influence.    
So, what's going on….  Why do so many people have an underactive thyroid?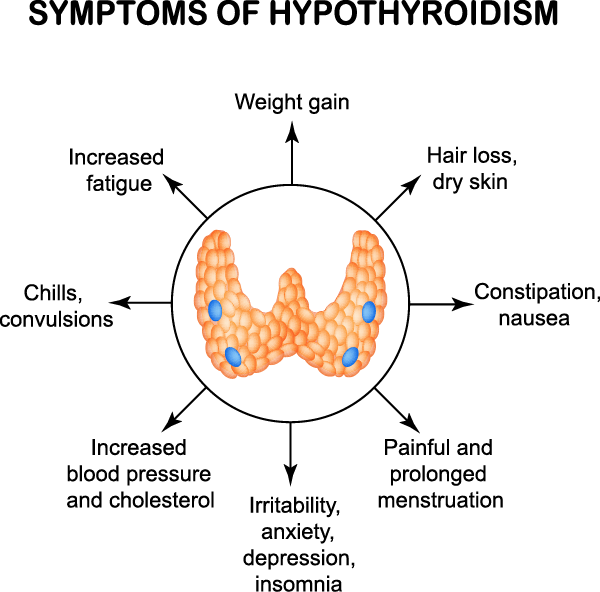 On a physical level the thyroid becomes imbalanced from:
Consuming too many foods and substances that create disharmony in the body.  These are things like excess animal protein (meat and dairy), rancid oils (found in processed foods, many restaurants, etc.), refined sugars and fluorinated water.
Toxic exposure to things like heavy metals, pesticides, herbicides and insecticides.
Radiation exposure.
On an energetic level I find people's thyroids become out of balance via:
Not being true and trusting oneself on an ongoing basis.
Think low of oneself
Lack confidence in one's decisions.
When one's brain overpower our heart to make the right choice due to fear, worry, sadness, anger, past trauma, etc.
Not Understanding that one's voice matters.
Not taking care of one's health.
Lacking healthy habits.  I.E. diet, exercise & sleep.
Not trusting one's gut feelings.
Not speaking one's truth.
How do you prevent developing hypothyroidism or heal from it?
The strategy for prevention and healing on the physical level are different.  But, on the energetic level there are many similarities.  Those being:
Accept yourself for who you are.
Focus on what you are good at and what makes you happy….  This naturally boosts confidence.
Trust your gut feelings.
Speak your truth.
Make a point to do something each day that nourishes yourself.  Ex. Eating a healthy meal, telling yourself, "I love myself unconditionally," going for a walk in the nature, etc.
Preventing Hypothyroidism:
Adequate exercise.
Healthy eating.
Proper sleep.
Cleansing to prevent toxicity build up.
Healing from Hypothyroidism:
Discovering the root cause of hypothyroidism.
Taking the right supplements to support healing.
Detoxification to clear toxins and inflammation from the body.
Dietary changes to support healing and a healthy thyroid.
Exercising to support healing and a healthy thyroid.
Ensuring healthy sleeping habits.
Daily visualization to support healing.
If you need help overcoming a Thyroid imbalance don't hesitate to ask…..  I'm here to help.
Heather Mills
Mc Cune, Kansas, USA
"Before working with Adam, blood work had shown that my thyroid levels were low. My doctor recommended I start taking a prescription thyroid drug. Instead, I did 2 Distance Healing Sessions with Adam. A few weeks later I had my blood work done again. My thyroid levels were back to normal.
I am so thankful that I did not have to resort to taking a prescription medication. Adam also discovered mercury toxicity in my body that was an underlying cause of other health issues I was dealing with. After removing the mercury, these issues were resolved. I'm so blessed to have found Intuitive Health Solutions."
Yes, I would love your help! Click here
References:
https://www.ncbi.nlm.nih.gov/pmc/articles/PMC3847753/
| | |
| --- | --- |
| Boost Your Immunity In Winter | Monday, February 11, 2019 |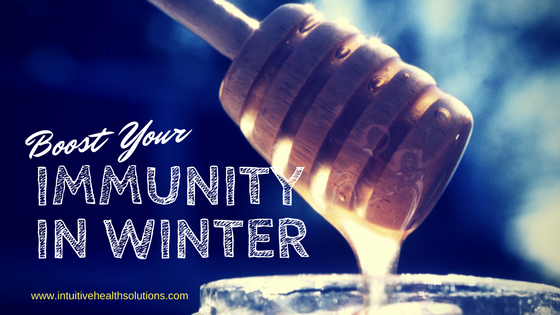 Winter is said to host many dreaded colds and flu bugs.  Not only that, but it is historically known as one of the most depressing seasons in North America. 
Why is it a dull season to many?
I think it is the lack of sunshine, flu's and colds, and a dull feeling after the excitement of the holidays. 
Many people find themselves battling cold after cold, having less energy than they would like and even feeling alittle blue.
But, rather than grab for cough syrup and cold remedies, how about boosting your immune system so you are rock solid and don't get sick at all?
Wouldn't you like to cruise through winter healthy, happy and have boundless amounts of energy?
I know I would!
Lets Clear Some Things Up First
Many people believe that if you go out into the cold weather dressed improperly, you will catch a cold.  Whether that is an old wives tale or a good parental scare tactic, it's just not true. 
Cold weather actually boost your IMMUNE SYSTEM.  Going from cold to hot gets your lymphatic system moving, heart pumping and immune system engaged.  It's like giving your immune system a workout!
What About the Germs?
Do you think that there are actually more germs floating around in the winter than in the summer?
Not true!
The germs are still there.  It's actually the sun's UVB & UVA Rays that increase your absorption of Vitamin D keeping your immune system strong in the summer months.   
Yes, you still get Vitamin D in the winter just less is absorbed from less UVB & UVA Rays.
I should mention that people are generally happier in the summer.  With happiness comes less stress, and since stress is a major immune system inhibitor, it's no wonder less people get sick in the summer.
Could It Be Less Exercise?
Like it or not, for the most part, people are not as active in the winter months.  They stay indoors more often than not, and don't engage in as many sports.  Even getting to the gym can prove to be a big feat for some. 
Exercise improves circulation, stimulates the immune system, detoxifies your body and raises energy levels.  Not only is it essential for good immunity, but it gives you a good boost of 'feel good hormones.'
So, exercise is essential for warding off flu bugs for sure.
7 Tips for Increasing Immunity
1. Exercise – Make sure that you are getting at least 30-60 minutes of exercise daily.  This will increase your immunity, help you stay strong and fit and give you the 'joy du vive' you are looking for in the winter.
Have you ever noticed that people who exercise in the winter are happier?
2. Vitamin D – Supplement with Vitamin D to increase your body's immunity in the winter months. Vitamin D helps you fight infections of all kinds. 
A study in Japan, showed that school aged children taking Vitamin D everyday during the winter, reduced their risk of catching the flu. 
The recommended daily intake of Vitamin D is 1000 iu for adults.  But, I have found that most people living in the Northern Hemisphere require more to maintain optimal levels.  Make sure to get tested with your doctor to see where your Vitamin D levels are.
You can purchase Vitamin D at health food sotre or online:  Click here for Vitamin D 
3. Get Adequate Rest – Let's face it, even with the dark days upon us, a lot of us have a tendency to stay up way too late.  Lack of rest not only decreases your body's energy, but also increases your stress levels.  Stress lowers immunity.
You should be striving to get to bed by 10pm everyday to keep your body's energy up and therefore your immunity.
4. Probiotics – One of the best immune boosters are good flora or Probiotics.  Did you know that good good flora make up the first line of defense for your immune system.  Good flora also create about 80% of your immunity.  So, it goes without saying that to have great immunity, you definitely need to have a strong gut health.
I personally supplement with good flora containing fermented foods like kefir and kombucha on a daily basis. You can also use Probiotics, which can be found in your natural health food store or in my store.
Make sure you buy a Probiotics that are stored in the fridge to maintain potency.
5. Herbal Immune Boosters – There are many Herbal Immune Boosters you can use in the winter for both prevention and treatment.  The key is consistency.  My favorvites include:
Echinacea

Goji Berries 

Maitake Mushrooms

Astragalus Root

Pine Needles
Echinacea – This is one of the more commonly known immune boosters, but I find that it is not always used correctly.  Echinacea is widely used to fight infections, especially common colds and other upper respiratory infections.  I have also used it at the first signs of mastitis quite effectively. The key is to use it at the first signs of infection: virus or bacteria.
So how do you use Echinacea?
Firstly, it's more potent and effective to use a tincture made from fresh Echinacea rather than dried.  Dried Echinacea has normally lost a lot of its potency. 
Echinacea tincture can be used on the first signs of a cold or flu.  But, 20-30 drops two to three times a day is usually not that effective.  For the first sign of a cold or infection, Echinacea can be used safely every 1-2 hours 1tsp or 30 drops, until the cold or infection subsides. 
As always if you have an infection that does not improve, you should always see a doctor.  Also, if you have an auto-immune disease you should speak with a practitioner before using it.
You can purchase Echinacea at health food stores or online.
Goji Berries – For more than 5000 years the Chinese have used Goji Berries as part of their traditional medicine.  It's known as 'The Fruit of Longevity;' having amazing immune enhancing qualities.
Goji Berries are loaded with Vitamin C and I love to get it from natural sources. 
Most Vitamin C supplements found on store shelves are derived from corn and most likely genetically modified (GMO).  So that's a big win for Goji Berries.
Goji Berries also reduce inflammation, improve resistance to cancer cell growth, nourish blood, reduce allergies & dizziness, improve vision and even help with low back pain. WOW!
You can buy Goji Berries in health food stores, grocery stores and online.
Maitake Mushrooms – They contain Beta Glucan, a compound responsible for immune support and macrophages, which are immune cells that eat up viruses.
In addition to that, Maitake mushrooms help turn on natural killer cells (NKC), which give viruses the 1-2 punch combo out of your body!
Lastly, they are loaded with polysaccharides, reduce inflammation, help with collagen production, energy production and so much more. 
I'm sure that in future studies we will see more amazing qualities of this mushroom.
You can buy Maitake Mushrooms in health food stores or online.
Astragalus Root - This is another herb used in Traditional Chinese Medicine as an ENERGY & IMMUNE BOOSTER.  It's known as an adaptogenic herb, which means it lowers your stress hormone cortisol.  Stress hormones inhibit your immune system, so Astragalus is a powerful herb to keep on hand. 
Astragalus also strengthen the lungs, which can lessen your susceptibility to respiratory infections and viruses and contains antioxidants that reduce inflammation. 
This is something I like to take everyday in the winter to keep my immune system top notch.
You can buy Astragalus at health food stores or online.
Pine Needles – Did you know that pine needles are extremely high in Vitamin C & A?  Not only that, but they are also a very powerful antioxidant, antiviral and immune system powerhouse.  Pine Needles have been used for eons by native communities to boost Vitamin C levels, prevent cold and flu. 
Pine Needles are great for preventing oxidative stress, beneficial for your skin and hair, and even have been known to improve vision.
Pine Needle tea also is antiseptic, helping to prevent bad bacteria and microbes from affecting your body.   They also help treat respiratory cold and infection by expectorating phlegm and neutralizing pathogens found in the sinuses. 
All you need are some Pine Needles and a pot of water.  A good handful will do.  Just bring water to a boil, turn off, put Pine Needles in pot, cover and let steep for 15-30mins.  Strain and enjoy. 
6. Local Raw Honey – Honey is perhaps one of the best immune system boosters out there.  The world health organization lists honey as a demulcent, which treats coughs.  I have used it for dry cough quite successfully.
Raw honey contains bee pollen, which is also known to ward off infections, prevent allergies, and is a natural source of energy.
Honey has been extensively studied and has been shown to increase disease fighting polyphenols in the blood.   Polyphenols are part of what makes honey a great choice for both prevention and treatment of colds.
7. Laughter - They say laughter is the best medicine.  I think this is more true than we realize. Not only does laughter increase our sense of well being, inner happiness and energy, but it creates a strong immune system.  
It's one of the easiest ways to boost immunity.  
I think that as adults we tend to laugh less than children. Perhaps we should take a tip from the kids and be more care-free in life?  
So, how can you bring more laughter into your life?  Make a commintment to laugh everyday, even if there is nothing to laugh at.  Some would call this Laughter Yoga.  Simply laugh.  Soon you will be laughing at how silly it is and it will become infectious.  
You could also make time to watch a comedy, visit friends (this usually brings about some laughs) and even play with kids.  It doesn't matter how you do it, just make time for laughing each day. 
What matters most for yourself is to come up with a good plan to keep your body and mind healthy and enjoy winter.   
You will know you are doing good when people around you are getting sick and you are not or you recover quickly from colds and flus.
| | |
| --- | --- |
| #1 Thing That Helped Me Heal | Tuesday, January 15, 2019 |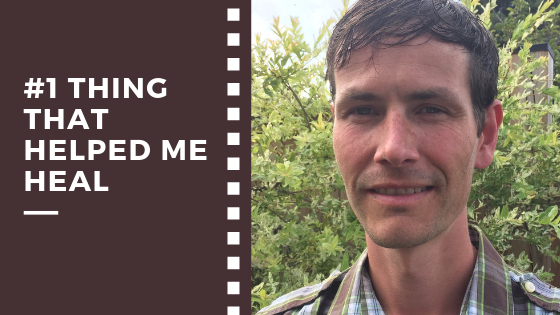 As a child and teenager, I suffered from severe irritability.  I felt like a ticking time bomb ready to go off if someone said or did something to trigger me.  It was rare if I didn't wake up irritated and frustrated.
But these intense feelings I felt were the result of what was going on inside of me, creating perpetual stress.    
On an unconscious level I was attached to anger, frustration, fear and sadness to many people without realizing it.   
This was because at different points in my past I felt these people had hurt me through their words and actions. 
Though it was me that was still holding onto those painful experiences, because I didn't know how to process them. 
Those experiences were kind of like undigested food rotting in my stomach, creating all kinds of different problems.
Those unprocessed negative experiences were telling my central nervous system (CNS) on an unconscious level to be in a state of fight or flight all the time, causing me to feel terrible.  
This made it very hard for me to relax and feel comfortable with myself and others. 
Physically, this affected my sleep, digestion and caused my body to feel tense and tight all the time.
At the time, I had no idea that I was still being affected from past experiences until I did this….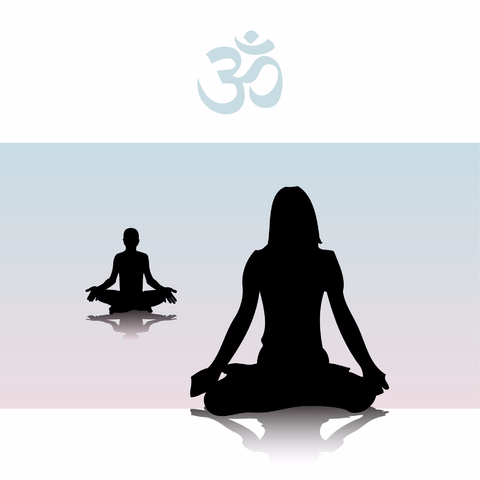 Quieted my mind and listened through meditation. 
When I first began meditating at age 20yrs old, I had a flood of negative feelings, thoughts and images arise to my consciousness.  It was quite scary and intimidating at first.  
But, I quickly learned an EXERCISE (listen to it below) that was centred around focusing on loving myself and other people. 
This powerful exercise helped me process the painful experiences, so I could finally overcome the pain they were causing me. 
It helped me to realize that I needed to forgive the people that hurt me and send love to them (including myself). 
All the negative feelings I was creating on a day to day basis were creating so much tension in my body that they were continually creating a toxic state for myself. 
As a result the physical, mental and emotional symptoms quickly resolved.
Clearing the stress in my mind also enhanced my intuition because it was no longer being blocked by stress and negativity.
When I decided to stop and observe, rather than reacted to every thought and feeling I experienced, it allowed me to create change.
Looking back at it now I find it amazing how simple it was to process the old emotional pain when I decided to let love in and let go. 
If you are anything like I was, the following Loving Kindness Exercise may be one of the most important things you do for your healing and moving forward with your life.    
| | |
| --- | --- |
| Are You Struggling With Hormone Imbalances? | Wednesday, April 18, 2018 |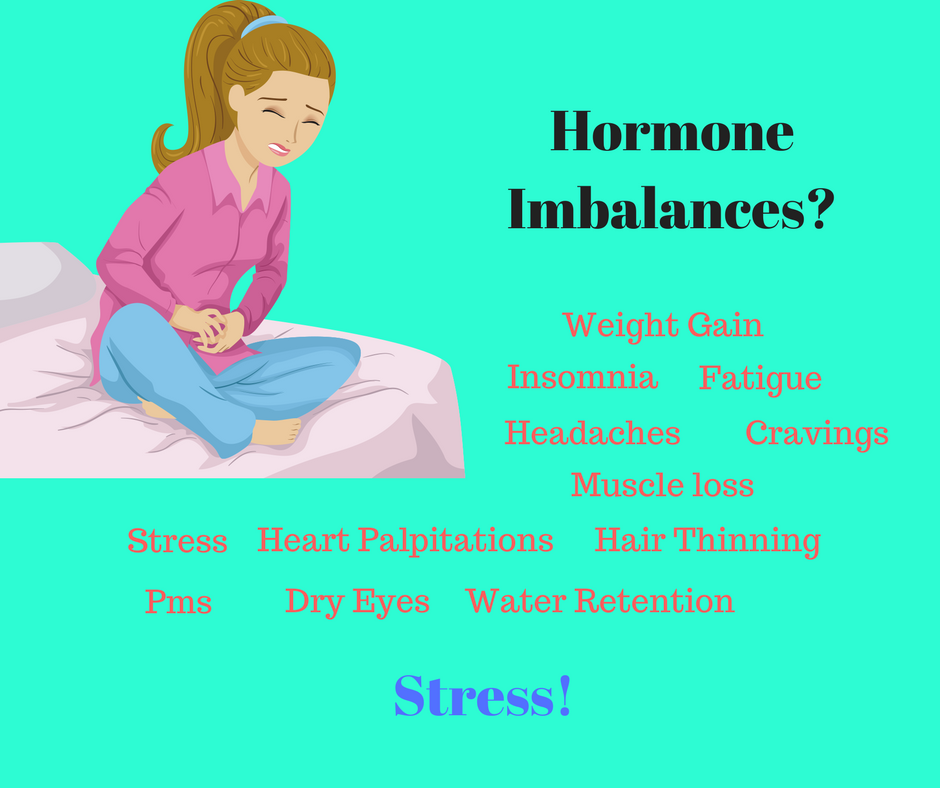 Struggling With Hormone Imbalances?
When I ask you to think about hormone issues, what is the first words that come to your mind?
Endometriosis, pms, mood swings, weight gain, insomnia, pcos or even hair loss?
Those are quite common symptoms of hormone imbalances, but what are some of the other hormone symptoms you can have?
Let me name a few….
Fatigue – this is more common than you might think, and your hormones have a lot to do with it!
Low Libido – a lack of interest in sex, has a lot to do with hormones.  
Weight loss Resistance – Hormones definitely contribute to weight gain and weight loss resistance. 
Aching muscles and joints – Did you know that your hormones can actually cause you pain when they are imbalanced?
Hair loss – Hair thinning all over the head can be a sign of high androgens and other hormone imbalances. 
Ovarian Cysts – This is definitely a sign that your hormones are needing some balancing. 
Dry Eyes – Yes, dry eyes can also be caused by hormones. 
Anxiety and Depression…
Hot flashes, insomnia, mood swings, water retention, cramps, constant colds, and many, many more…….
So, what can you do about it?  
First and foremost, I suggest learning the differences between testing your hormones with blood, urine and saliva.  
Yes, they are very different.  
DIFFERENCES BETWEEN BLOOD, URINE AND SALIVA TESTING!
BLOOD
Blood is an accurate reading of what is happening at one point in the day. It is great for testing the overall picture.  Blood or serum is great for testing peptide hormones and total hormones such as Follicle stimulating hormone, LH, prolactin, insulin and even thyroid hormones (if the free form is included). 
But, for sex hormones no distinction is made in blood between bound hormones and free hormones (the hormones your body can use). 
Women have three different kinds of estrogen in the body: estradiol, estrone and estriol.  In blood they are only tested as one hormone.  Meaning we can't tell the difference between the good and bad estrogens in the body by evaluating blood. 
This can lead to misleading results!  
It can cause hormones to appear completely normal or even high normal. Remember blood is only testing the total of your three estrogens. 
But, if the free hormone level is low (your available hormone or usable hormone) you can still feel like a hot hormone mess.  Even if your doctor has told you that your hormones are normal!
Serum hormone testing also does not measure estrogen, adrenal or androgen metabolites.  So, it does not show how those hormones are breaking down in the body and how well the liver's phase one and two detoxification is working.   
SALIVA
Saliva has become really popular over the years. Saliva is non-invasive and quite easy to do.  The benefit to saliva is that it allows for multiple collections over a 24 hour period, or even an entire month.  This allows you to see abnormal hormone patterns, such as shortened luteal phase (the second half of a woman's cycle), or even cortisol patterns over the entire day. 
A Saliva test measures free hormones (your usable hormones or bioavailable hormones), which makes it a better measure then blood for evaluating hormone profiles.  
Remember blood is measuring your total hormones and only at one point in the day, which does not give you a good indicator of hormones that may dip or spike during certain times in the month. 
Saliva is a good measure of Estradiol, estrone, and estriol, progesterone, testosterone and DHEA.  But, saliva does not show steroid hormone metabolites. This is limiting as it does not show you how your hormones are breaking down, or if they are being reabsorbed.
URINE
The 24 hour urine hormone test is the preferred method for testing hormones. It tests for hormones secreted at night, like cortisol and melatonin as well as growth hormone.
Got insomnia or sleeping trouble? This test can show you why!
Urine testing measures unbound hormones, reflecting the bioavailable hormones or the hormones that are available for use right now!
The advantage of urine testing is the ability to measure hormone metabolites. It will show your estrogen levels good and bad, and whether they are metabolizing down a pathyway that can be carcinogenic.  Urine will also show how Androgens are metabolizing in your body, whether they are going down the pathway that will cause hair thinning and androgenic alopecia etc. 
Urine testing can show the balance of protective "good" estrogens, compared to harmful or "bad" estrogens and whether your treatment protocol is working. This is huge!  No longer do you have to wonder if you are getting anywhere with what you are taking!
Urine hormone testing measures both phase 1 and 2 liver detoxification.  It shows how well the liver is metabolizing estrogen, among other hormones and how well the liver is functioning, which is huge in everything from hormone imbalances to depression and anxiety.
Urine is also an excellent test to evaluate adrenal health and function.  It not only measures DHEA and DHEAs, but measures cortisone and cortisol, telling us the status of your adrenal glands and if adrenal fatigue is an issue. 
In my opinion, urine is the gold standard of hormone testing.  
BEING VULNERABLE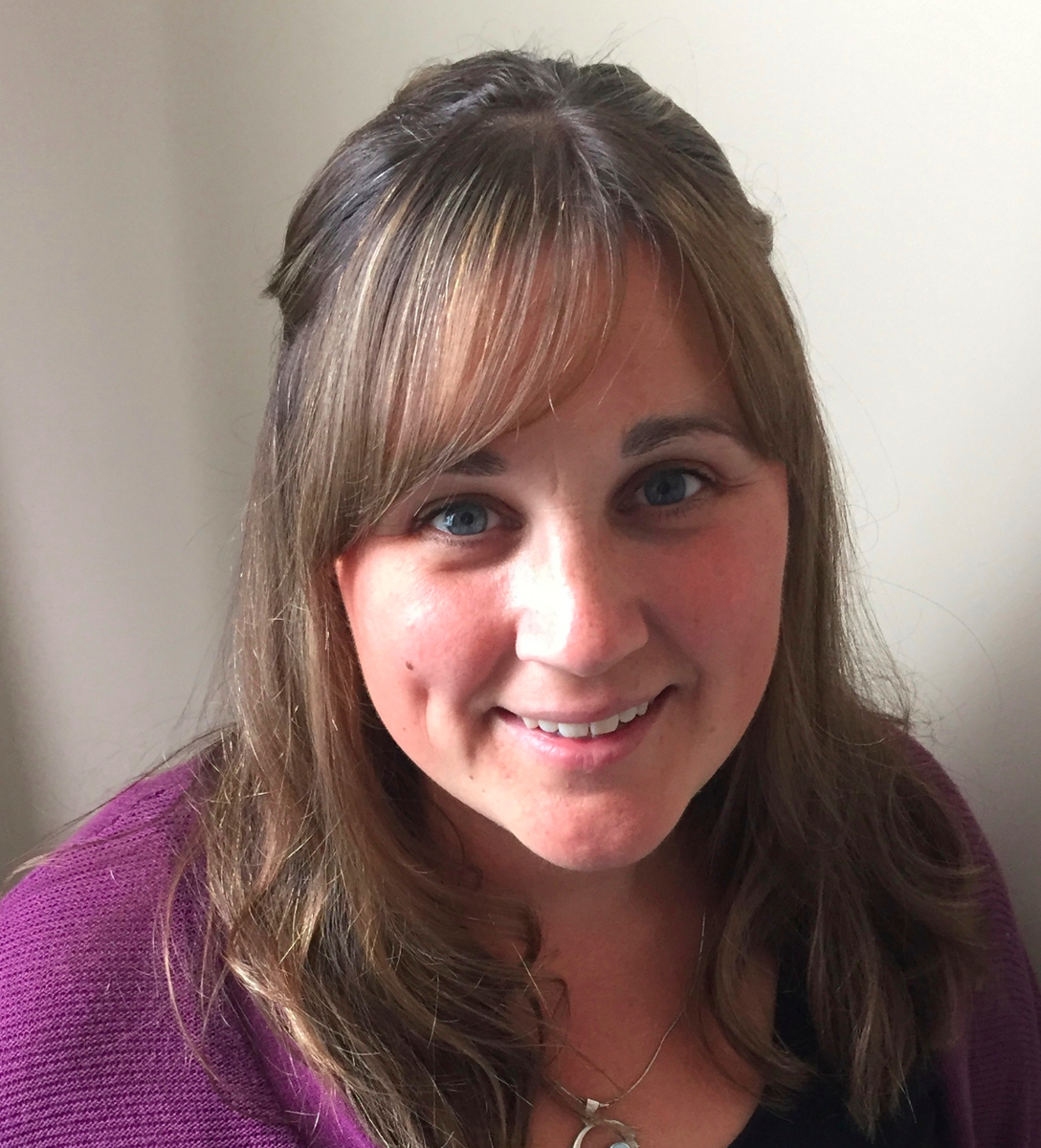 I tested my Urine hormones a year ago.  It led me to some eye -opening discoveries. 
I found out that my liver's phase two detoxification was quite low (I suspected as much) and that my estrogens were beginning to metabolize down a carcinogenic pathway.  THIS IS HUGE.  Essentially, this test allowed me to begin treating this issue before it became significant.
Blood would never have been able to show me this. 
If you would like to discover your hormone profile, as a Functional Medicine Practitioner, I have begun offering these tests. 
You can email me at keri@intuitivehealthsolutions.com to find out more or sign up for a Functional Medicine Consultation here to test your hormones.
In good health, 
Keri Fulmore
Medical Intuitive, Functional Medicine Practitioner & Author
| | |
| --- | --- |
| Within Every Problem is the Solution | Thursday, February 1, 2018 |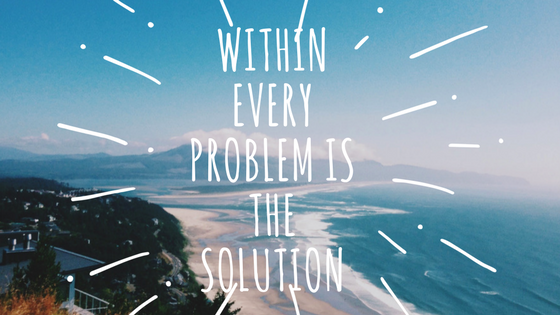 I had a realization this week, about where a part of me was living my life from.  I was living my life through a place of thinking, "I need to make more money to be happy."  At times in the past when I would make a lot of money I would feel happy, but then other times when I thought I didn't make enough I would feel very unhappy and stressed.  Resulting in me making bad choices for myself.
This unhealthy definition is not something I came up with on my own, this is a belief that many people are brainwashed with through media, other people and a lot of North American culture. 
The chase for wealth is a very unnatural way of living, there is so much stress associated with it because human's have a natural instinct to always want more of whatever their goal is. 
One thing I have grown to understand over the years is, "Wealth is the result of my actions." So, I if I want to be wealthy I need to do the things/actions that will produce it.  And with me being a very holistic minded person, I want to help people achieve their full potential.
Back to my story….
After having this realization, I decided to change my goal of my life by first asking myself the question, "How do I want to feel?"
The answer I came up with was, "Joy."  So, I decided I am going to start living my life from a place of joy.  
So, my next question was, "What do I need to do to create that?"
The answer my soul gave me back was, "To just be."  The answer felt peaceful, joyful and loving.
I then asked myself some more specific questions.
From a work standpoint the message I received was to share how I feel and help others pinpoint exactly what they want out of their lives.  When you know what you want then you can achieve it.
From a physical health standpoint I want to eat the healthiest food/diet possible for myself and do exercises and movement that make me feel good.
Emotionally: Be open and accepting of other people and their views, be kind and gentle on myself always. 
Mentally:  Accept that I don't know everything and ask for help.
Spiritually:  Continually align myself with the highest form of unconditional love.
So, my question for you is, "Where are you living your life from?" If you're not sure how to answer that then, "What is the most common way you feel about your life?"
How you feel has a direct impact on every aspect of your life such as health, relationships and finances.
Below I have written the steps I used to find out what was controlling my life and how I changed it into what I do want.
Steps to Create the Life you Desire
Find somewhere quiet and peace, close your eyes and take 3 deep breaths.  With your eyes close bring your attention to the centre of your chest and ask yourself, "How do I feel about my life?"  The answer you receive may come back in words, feelings, or images.  Do your best to interpret the message.
Ask yourself, "Why you feel this way about your life?"  Did the answer you got back feel healthy or unhealthy to you?
At this time decide if you want to keep living your life in this way or are you ready to change and live your life in a better way?
If you want to live your life in a better way, ask yourself (at that chest level), "How do I want my life to feel on a regular basis?"
With your answer, ask yourself, "What do I need to do to live this way?"
At this point you can start being more specific like asking, "What do I need to do physically, emotionally, mentally or spiritually to live this way?" Ask whatever question you would like in regards to your answer.
If you need extra help with changing your life to be the best version of yourself, contact me.  I would love to help you.
| | |
| --- | --- |
| 3 Biggest Health Robbers | Wednesday, January 24, 2018 |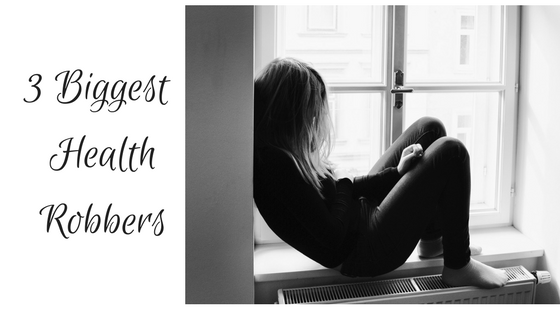 Over the past few weeks, I had the opportunity to accompany a friend to Sanoviv Medical Institute in Mexico.
Sanoviv specializes in treating many chronic health conditions like cancer, autoimmune disorders and Lyme disease.  They also run detox programs to improve your health.
There were a few things that became quite apparent for health and healing while I was there. Nothing that was new to me, but instead reinforced the importance of it to maintain and optimize health.
3 Things that Rob Your Health and What you can do about them
1. Sugar
Sugar is one of the worst things you can eat.  If you were to add up all the sugar you eat in a day, you would be astounded.  Most of the sugar people eat, is not even in realization that they are eating sugar in the first place. 
Did you know that bread even turns to sugar in your body? 
Or how about sweeteners like agave nectar, corn syrup, dextrose, fructose, etc. that show up in most of our packaged foods? 
I learned sugar feeds ill health and in particular cancer. 
Now, fruit shouldn't be confused with sugar.  Fruit in its whole form contains fiber which slows down the rate at which glucose hits the blood stream.  However, you should still be careful with how much fruit you eat. 
Did you know that 1 apple contains 4 teaspoons of sugar?  If you juice that apple, the entire 4 tsp will absorb and feed your cells with sugar.  That is why it's best to eat fruit in its whole form, fiber intact. 
The last thing I will say about sugar is watch the amount of sauces you use and even salad dressings.  Make your own and keep sugar out.
I also learned that sugar causes a fatty liver.  Got a fatty liver?  A fatty liver is the liver being flooded with too much sugar.  Cut it out and see what happens.
2. Inflammation
Keep Inflammation as low as possible.  Inflammation is rampant in people's bodies these days. The common North American diet is very inflammatory with gluten and processed foods like dairy, sugar, sauces and dips, coffee, etc. 
Inflammation clogs up your body's ability to properly detoxify, and to heal. 
Eating a very heavy diet in vegetables which is as organic as possible is one of the best ways to keep inflammation at bay. 
At Sanoviv, most meals were completely vegetable base with some added nuts and fats like avocado.  I found myself eating a big salad with seeds and avocado, and then some steamed veggies on the side.  Very little white meat/poultry was eaten, and the only grains consumed were quinoa, oatmeal, wild rice and brown rice.  There were very few legumes aside from lentils.  I noticed I felt very clean eating this way. 
One of my favorite things they served was Golden Milk.  Now, Golden Milk is amazing at reducing inflammation, getting your liver detoxifying and blood purifying.  It's great for the joints and arthritis and is even a great tonic for a woman's reproductive system.  
I recommend that you make Golden Milk if you have never tried it. 
Golden Milk Recipe
¼ cup of water
1/8 tsp of turmeric
1 cup almond or nut milk
1-2 tablespoons of almond oil or nut oil 
Pinch of cardamon and cinnamon 
Raw honey to taste if desired. 
Boil water and turmeric in a small saucepan over medium to high heat for 8 mins.  This cooks the turmeric and releases its properties.  Meanwhile bring the rice or nut milk to a boil in another saucepan and then remove from heat.  Add in the coconut oil or almond oil, cardamon and cinnamon as well as the raw honey if desired.  Mix both mixtures together.  Drink and enjoy. 
3. You Can't Heal if You are Stressed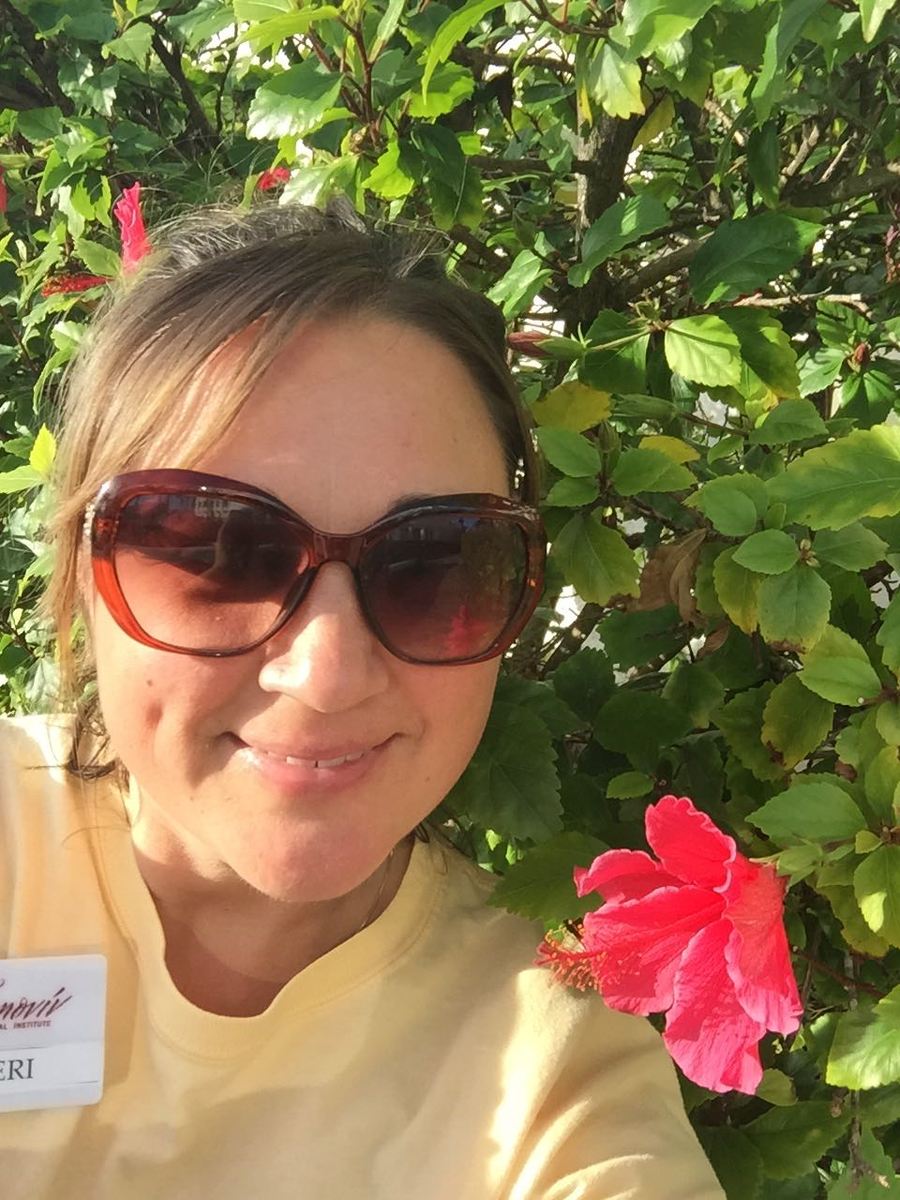 Lastly, I would like to mention my biggest takeaway.  If one cannot maintain a balanced state of inner peace, and allows stress to lead the way, health will be hard to maintain.  I realized that stress comes in many forms.  Complaining, control, or feeling a lack of control, worry, feeling unloved, not being present in the moment, anger and supressed frustration, harboring old hurt (which only hurts you) and lack of self-love to name a few. 
I learnt that surrender and acceptance even in crappy circumstances is essential to healing.  One woman I met at Sanoviv was able to align her mind and body into a place of peace, acceptance, and wellbeing while she was there.  In three weeks, her cancer markers returned to that of a healthy person.  Rather than stressing about the disease itself, she choose to be at peace and know that her mind was her biggest ally in healing. 
One doctor at Sanoviv said that there are only two reasons for illness other than injury, a bad diet and stress.  If you can work on both of those, you have the best chance at a good healthy life.
Of course, I re-learned a lot more while visiting Sanoviv Medical Institute.  I will be sharing these with you over the coming weeks.  So, stay tuned!
If, you are wanting to find more peace in your life and emotions, why not work with Adam Fulmore, Intuitive Energy Healer to get to the bottom of your body's emotional stress patterns? 
Sign Up for a Distance Healing Session
Or, I would love to help you with a Full Medical Intuitive Reading.  Make 2018 your healthiest year yet!
Sign Up for a Full Medical Intuitive Reading
In Good Health,
Keri Fulmore
Medical Intuitive
Functional Medicine Practitioner
Author
| | |
| --- | --- |
| New Insomnia Solutions | Tuesday, September 5, 2017 |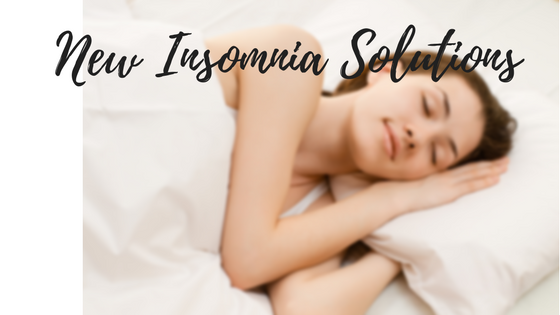 If you are suffering from insomnia, you understand how the sleepless nights can be frustrating.  You get it when I mention feeling like a zombie in the morning, and dragging yourself all day long.  Not getting 6-8 hours of REM sleep effects every aspect of your life.
Luckily, there are some great solutions that you may not know about.
But first, I think it is important to talk about the mental and emotional aspect of insomnia.  Insomnia is usually the last symptom in a stress response.  After a long bout of stress or life changes, the mind can have a hard time shutting off.  This is usually due to cortisol (our stress hormone) and a brain that has been wired for stress.  The first step in battling insomnia is to look at your life from a new perspective. 
Are you doing things that you don't like doing? 
Are you a people pleaser?
Do you over extend yourself to meet deadlines? 
Insomnia is a symptom that should prompt you to re-evaluate your life.  Not only should you re-evaluate your life, but re-training your brain to slip into the healing and relaxation response is necessary. 
There are two kinds of insomnia.  The kind where you can't seem to fall asleep no matter what you do, and the kind where you fall asleep but wake up frequently. 
Frequent waking can be a sign of high blood sugar or hypoglycemia, too much alcohol, caffeine, spicy foods and even stress. It can also be a sign that you are deficient in minerals like chromium, vanadium and manganese and other nutrients.  A deficiency in these minerals can cause you to wake every few hours with a hard time falling back asleep.
Then there is the "happy hormone" serotonin, which is a hormone that is a precursor to melatonin.  You make serotonin from the amino acid tryptophan.  But, when you are stressed for an extended period of time, serotonin depletion can happen. 
Did you know that 95% of serotonin is made in the gut?  Because the gut and brain are so closely linked, both stress and poor diet can lower serotonin. 
There are literally dozens of studies that show low serotonin and tryptophan levels lead to insomnia.  Some of the symptoms of low serotonin are waking feeling unrested, inability to stay asleep after getting there, and lying awake all night.
For many years now, studies have proven that the amino acid tryptophan (which is a precursor to serotonin), produces great sleep.  In fact, it has been shown to improve mental clarity in the day.  It can also be helpful for depression, pms, fibromyalgia, and anxiety as well as carbohydrate cravings and alcoholism.
Recently, I have learned through Functional Medicine that zinc or B6 deficiency can lead to insomnia. When you are deficient in B6, it can literally keep you awake all night.  Or, low zinc can cause a B6 conversion issue, which is needed to make more tryptophan and serotonin. 
6 STEPS YOU CAN DO TO FINALLY SLEEP
1 . De-stress – Try to turn off all electronics an hour before bed.  Meditate and deep breathe.  Both of these techniques have been shown to reduce the stress response in the brain. You can also try to laugh more during the day.  Laughter will help to reduce over all stress.  Lastly, re-evaluate your life and make sure you are leading from your heart not your head.
2. Stay away from PLASTICS – Too many plastics in your body lowers zinc.  Zinc is needed to convert B6 to an active form to produce tryptophan and serotonin.  So, Cut Plastics Out!
3. Optimize your gut health – 95% of serotonin is made in your gut.  If you have gas and bloating, alternating constipation and diarrhea, indigestion etc. The chances of curing your insomnia are not high.  Make sure you are eating whole foods, cutting out sugar, alcohol, caffeine, wheat and all gmo foods, corn and corn derivatives and soy.  Contact a good practitioner to help put a plan together for yourself.  I can certainly help!
4. Optimize your minerals – Make sure you are eating foods and even supplementing with a good multi-mineral.  Healthy chromium, vanadium and manganese help prevent blood sugar imbalances and frequent wake up. 
5. Eat plenty of B Vitamin rich foods -  You can increase B Vitamins using foods like nutritional yeast, nuts and seeds, fish, chicken, meat, eggs etc. 
6. Try out Tryptophan or 5-HTP – These are supplements that are a precursor to serotonin.  Serotonin is a precursor to melatonin which is our sleep hormone. 
*I should mention that if you are on SSRI's or anti-depressants you should not supplement with Tryptophan or serotonin as they interact.  *
*Of course, you should not start any new supplement or health regime without contacting your doctor. 
There are so many root causes to insomnia! If you would like help to get to the root of your insomnia along with a health protocol, contact me!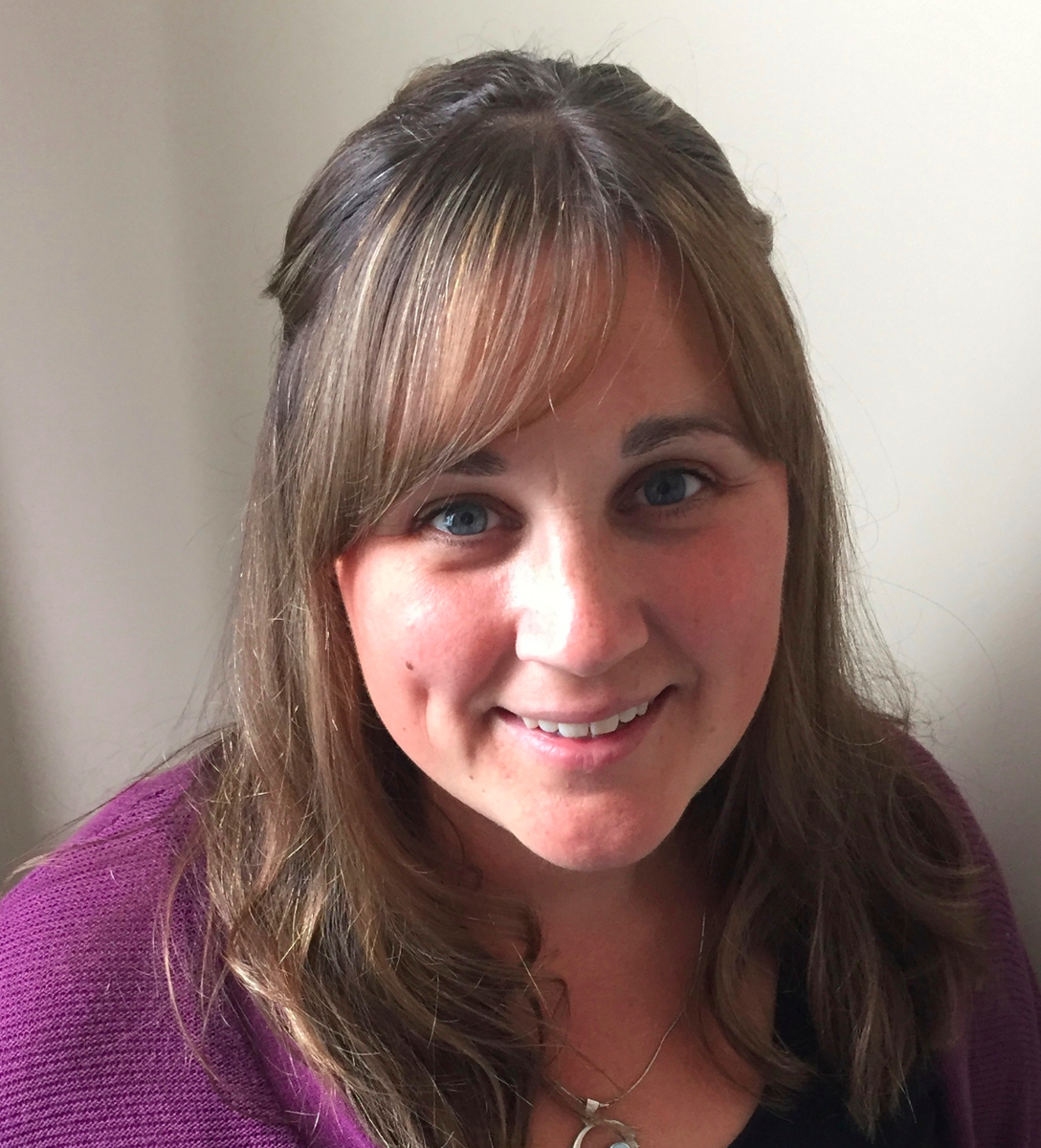 Click here to contact Keri Dennis-Fulmore
| | |
| --- | --- |
| The Most Important Thing I Did To Facilitate My Healing! | Tuesday, March 14, 2017 |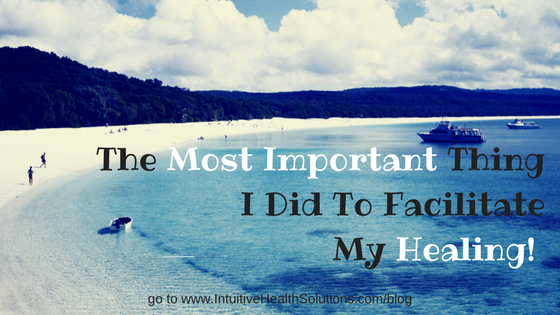 One of the things that came up for me on my journey to wellness was a lot of fear in trusting new things. 
Would this new treatment make me better or worse? 
Could I handle the changes if they were not favourable? 
Did this person really know what they were doing to treat me properly?
What I didn't realize was this way of thinking was the wrong approach entirely.  I was living in fight or flight.  I was living in a fear-based mindset.  I expected the worst, so I would not have the rug pulled out from under me.
With every new treatment I had oodles of hope, but deep down I was scared of the outcome.  At a core level I didn't think it would work.
This way of thinking never brought me the right therapies or the right environment for healing.  All it brought me was more fear, more pain and even more of what I didn't want in my life….  STRESS!
Did you know that this type of negative thinking, also called 'worse case scenario thinking' is seen and felt as stress to the body?
Stress is not something you want to be dancing with on a daily basis.  Chronic stress will NEVER open you up to Health and Healing.  It actually creates the opposite effect.  
It took me a long time to realize that I was blocking my own healing by the way I was thinking. 
I was causing myself stress!
Stress and Healing
The funny thing about stress is that people often do not even realize that they are stressed!
I didn't. 
I was happy with my career, my family life, my marriage, my life seemed flawless at the time!
So, if someone asked me if I was stressed, I would have said no.  I loved my life.
I had no idea that my own thoughts, my innermost darkest thoughts, that played around in my mind day after day could be causing so much turmoil for my body.
I was a 'worst-case scenario thinker.' 
Even worse than that, I was hard on myself.  I didn't except myself for what I was.  I didn't love every inch of myself.  Instead, I judged myself everyday. 
When constantly thinking that the other shoe is going to drop, or wishing for something better than what's there, it causes a huge amount of stress to the body.
I found that De-Stressing and checking in with myself everyday was paramount for my healing.
4 Simple De-stressing Techniques for Self-Healing.
1. Check Your Thoughts – If you are prone to worry and fortune telling about the outcome of your health and future, there are simple techniques.  I found that when I had a fearful thought or worry, I stopped and asked myself, "I am 100 percent sure that what I am thinking is true?"  
If the answer is "no," I let it go.  Unless you are sure of the outcome, don't give it energy.  I have also found that asking myself, "Will this matter tomorrow?" Is just as important. 
If what you are worrying about will not matter tomorrow, what is the point about stressing about it?  Be sure that what you are giving your energy to is worth it!
2. Meditate and Deep Breathing – Meditation and inner reflection is really important for self-healing.  Your body has all of the answers that you need when it comes to healing.  Taking the time to get quiet with yourself to ask your body why you are having a certain problem is important.  With practice you will hear your inner voice and it will 'no doubt' guide you to healing.  So don't forget to ask!
Deep Breathing is just as important   A deep breathe lets your body know that you are relaxed and there's nothing to worry about.  It also engages your parasympathetic healing response.  This is the opposite of your stress response.  Because stress is the number one cause of most health issues, deep breathing is essential.
3. Positive Reinforcement – It does a body no good to think judgemental or hurtful thoughts towards one's self.  It is important to stop negative self -sabotaging thoughts in their tracks and reinforce it with a positive statement.  This tells your brain that you are not stressed and everything is ok.

4. Do Something Joyful – Most people can get really caught up in their health issues.  It can bring about melancholy, depression and even anger.  It is important to counter act those feelings with joy. 
Did you know that laughter heals? Or that a smile, even if faked can release feel good hormones in your body.  Feel good hormones are what you need to heal.  Watch a comedy, do laughter yoga, smell some flowers, call a good friend, or simply think about something that brought you joy (really visualize it).
These are just a few techniques to get your started.  Doing them on a daily basis will help to increase your vibration, keep your body out of stress, and keep your moods positive.  It can even heal.  When your vibrating at a higher frequency, you attract all that you need to be well.
Contributors
Latest Posts
Archive
2020

2019

August

July

June

May

February

January

2018

2017

September

August

March

February

January

2016

December

November

October

September
Tags
Everything
Happy
Relaxing
Outdoors
Healing
Medical Intuition
Emotional healing
stress
De Stress
Anxiety
heart health
fatigue
self-love
unconditional love
energy healing
self healing
Qi Gong