| | |
| --- | --- |
| Super Charge Your Energy | Wednesday, October 25, 2023 |
| | |
| --- | --- |
| What's Causing Hypothyroidism? | Wednesday, May 29, 2019 |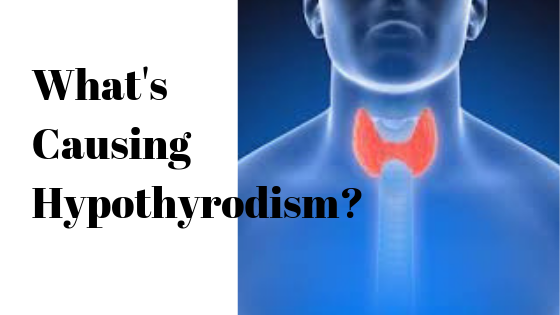 Levothyroxine (generic for Synthroid) is one of the most prescribed medications in North America and it's for Hypothyroidism (underactive thyroid). 
Underactive thyroids appear to be an epidemic, but why are they so prevalent?
Let's first get clear what a healthy thyroid does. 
Your thyroid produces hormones to regulate metabolism, healthy growth and development of your body.
On an energetic level your thyroid creates balance within yourself that creates a sense of calmness and shields/protects your body from negative energy like other people's negative influence.    
So, what's going on….  Why do so many people have an underactive thyroid?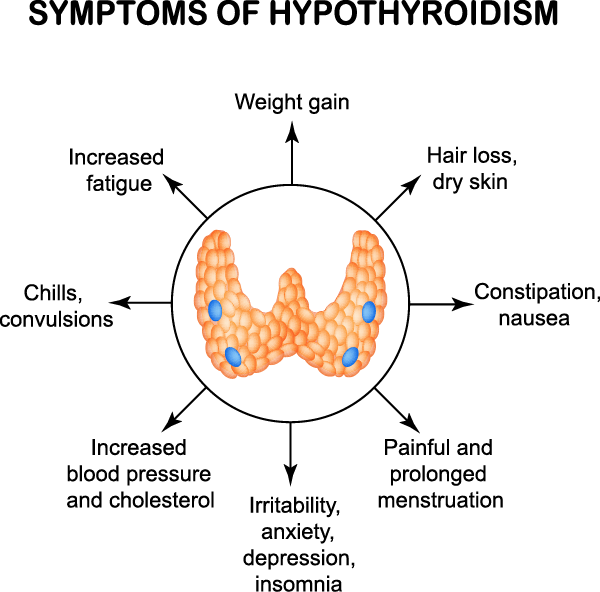 On a physical level the thyroid becomes imbalanced from:
Consuming too many foods and substances that create disharmony in the body.  These are things like excess animal protein (meat and dairy), rancid oils (found in processed foods, many restaurants, etc.), refined sugars and fluorinated water.
Toxic exposure to things like heavy metals, pesticides, herbicides and insecticides.
Radiation exposure.
On an energetic level I find people's thyroids become out of balance via:
Not being true and trusting oneself on an ongoing basis.
Think low of oneself
Lack confidence in one's decisions.
When one's brain overpower our heart to make the right choice due to fear, worry, sadness, anger, past trauma, etc.
Not Understanding that one's voice matters.
Not taking care of one's health.
Lacking healthy habits.  I.E. diet, exercise & sleep.
Not trusting one's gut feelings.
Not speaking one's truth.
How do you prevent developing hypothyroidism or heal from it?
The strategy for prevention and healing on the physical level are different.  But, on the energetic level there are many similarities.  Those being:
Accept yourself for who you are.
Focus on what you are good at and what makes you happy….  This naturally boosts confidence.
Trust your gut feelings.
Speak your truth.
Make a point to do something each day that nourishes yourself.  Ex. Eating a healthy meal, telling yourself, "I love myself unconditionally," going for a walk in the nature, etc.
Preventing Hypothyroidism:
Adequate exercise.
Healthy eating.
Proper sleep.
Cleansing to prevent toxicity build up.
Healing from Hypothyroidism:
Discovering the root cause of hypothyroidism.
Taking the right supplements to support healing.
Detoxification to clear toxins and inflammation from the body.
Dietary changes to support healing and a healthy thyroid.
Exercising to support healing and a healthy thyroid.
Ensuring healthy sleeping habits.
Daily visualization to support healing.
If you need help overcoming a Thyroid imbalance don't hesitate to ask…..  I'm here to help.
Heather Mills
Mc Cune, Kansas, USA
"Before working with Adam, blood work had shown that my thyroid levels were low. My doctor recommended I start taking a prescription thyroid drug. Instead, I did 2 Distance Healing Sessions with Adam. A few weeks later I had my blood work done again. My thyroid levels were back to normal.
I am so thankful that I did not have to resort to taking a prescription medication. Adam also discovered mercury toxicity in my body that was an underlying cause of other health issues I was dealing with. After removing the mercury, these issues were resolved. I'm so blessed to have found Intuitive Health Solutions."
Yes, I would love your help! Click here
References:
https://www.ncbi.nlm.nih.gov/pmc/articles/PMC3847753/
| | |
| --- | --- |
| Are You Struggling With Hormone Imbalances? | Wednesday, April 18, 2018 |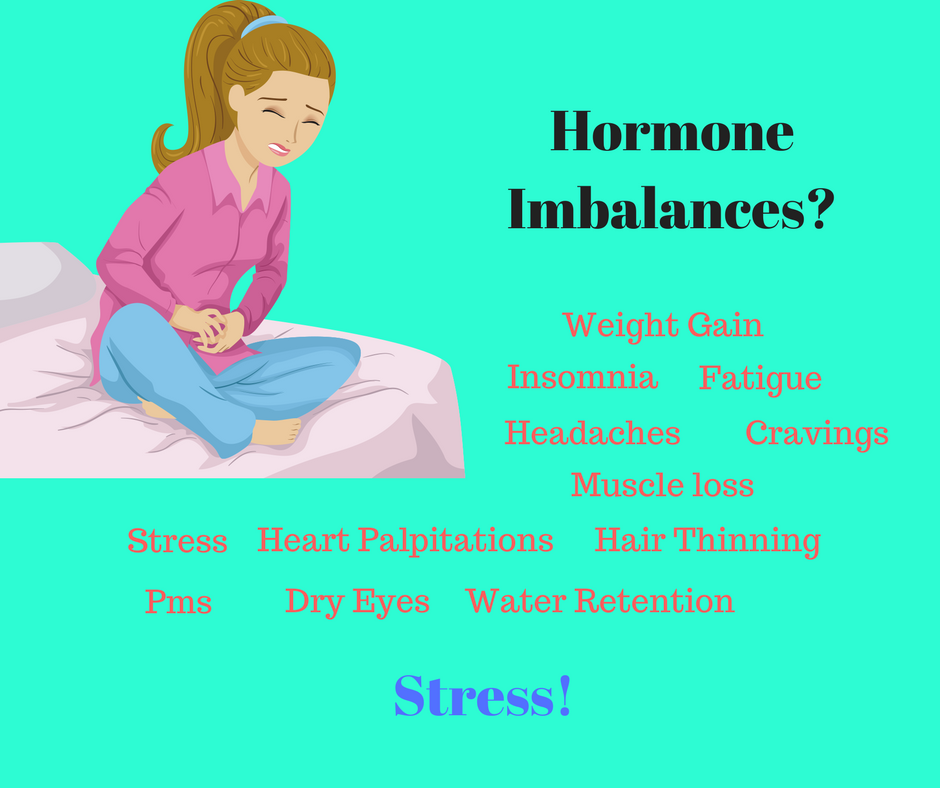 Struggling With Hormone Imbalances?
When I ask you to think about hormone issues, what is the first words that come to your mind?
Endometriosis, pms, mood swings, weight gain, insomnia, pcos or even hair loss?
Those are quite common symptoms of hormone imbalances, but what are some of the other hormone symptoms you can have?
Let me name a few….
Fatigue – this is more common than you might think, and your hormones have a lot to do with it!
Low Libido – a lack of interest in sex, has a lot to do with hormones.  
Weight loss Resistance – Hormones definitely contribute to weight gain and weight loss resistance. 
Aching muscles and joints – Did you know that your hormones can actually cause you pain when they are imbalanced?
Hair loss – Hair thinning all over the head can be a sign of high androgens and other hormone imbalances. 
Ovarian Cysts – This is definitely a sign that your hormones are needing some balancing. 
Dry Eyes – Yes, dry eyes can also be caused by hormones. 
Anxiety and Depression…
Hot flashes, insomnia, mood swings, water retention, cramps, constant colds, and many, many more…….
So, what can you do about it?  
First and foremost, I suggest learning the differences between testing your hormones with blood, urine and saliva.  
Yes, they are very different.  
DIFFERENCES BETWEEN BLOOD, URINE AND SALIVA TESTING!
BLOOD
Blood is an accurate reading of what is happening at one point in the day. It is great for testing the overall picture.  Blood or serum is great for testing peptide hormones and total hormones such as Follicle stimulating hormone, LH, prolactin, insulin and even thyroid hormones (if the free form is included). 
But, for sex hormones no distinction is made in blood between bound hormones and free hormones (the hormones your body can use). 
Women have three different kinds of estrogen in the body: estradiol, estrone and estriol.  In blood they are only tested as one hormone.  Meaning we can't tell the difference between the good and bad estrogens in the body by evaluating blood. 
This can lead to misleading results!  
It can cause hormones to appear completely normal or even high normal. Remember blood is only testing the total of your three estrogens. 
But, if the free hormone level is low (your available hormone or usable hormone) you can still feel like a hot hormone mess.  Even if your doctor has told you that your hormones are normal!
Serum hormone testing also does not measure estrogen, adrenal or androgen metabolites.  So, it does not show how those hormones are breaking down in the body and how well the liver's phase one and two detoxification is working.   
SALIVA
Saliva has become really popular over the years. Saliva is non-invasive and quite easy to do.  The benefit to saliva is that it allows for multiple collections over a 24 hour period, or even an entire month.  This allows you to see abnormal hormone patterns, such as shortened luteal phase (the second half of a woman's cycle), or even cortisol patterns over the entire day. 
A Saliva test measures free hormones (your usable hormones or bioavailable hormones), which makes it a better measure then blood for evaluating hormone profiles.  
Remember blood is measuring your total hormones and only at one point in the day, which does not give you a good indicator of hormones that may dip or spike during certain times in the month. 
Saliva is a good measure of Estradiol, estrone, and estriol, progesterone, testosterone and DHEA.  But, saliva does not show steroid hormone metabolites. This is limiting as it does not show you how your hormones are breaking down, or if they are being reabsorbed.
URINE
The 24 hour urine hormone test is the preferred method for testing hormones. It tests for hormones secreted at night, like cortisol and melatonin as well as growth hormone.
Got insomnia or sleeping trouble? This test can show you why!
Urine testing measures unbound hormones, reflecting the bioavailable hormones or the hormones that are available for use right now!
The advantage of urine testing is the ability to measure hormone metabolites. It will show your estrogen levels good and bad, and whether they are metabolizing down a pathyway that can be carcinogenic.  Urine will also show how Androgens are metabolizing in your body, whether they are going down the pathway that will cause hair thinning and androgenic alopecia etc. 
Urine testing can show the balance of protective "good" estrogens, compared to harmful or "bad" estrogens and whether your treatment protocol is working. This is huge!  No longer do you have to wonder if you are getting anywhere with what you are taking!
Urine hormone testing measures both phase 1 and 2 liver detoxification.  It shows how well the liver is metabolizing estrogen, among other hormones and how well the liver is functioning, which is huge in everything from hormone imbalances to depression and anxiety.
Urine is also an excellent test to evaluate adrenal health and function.  It not only measures DHEA and DHEAs, but measures cortisone and cortisol, telling us the status of your adrenal glands and if adrenal fatigue is an issue. 
In my opinion, urine is the gold standard of hormone testing.  
BEING VULNERABLE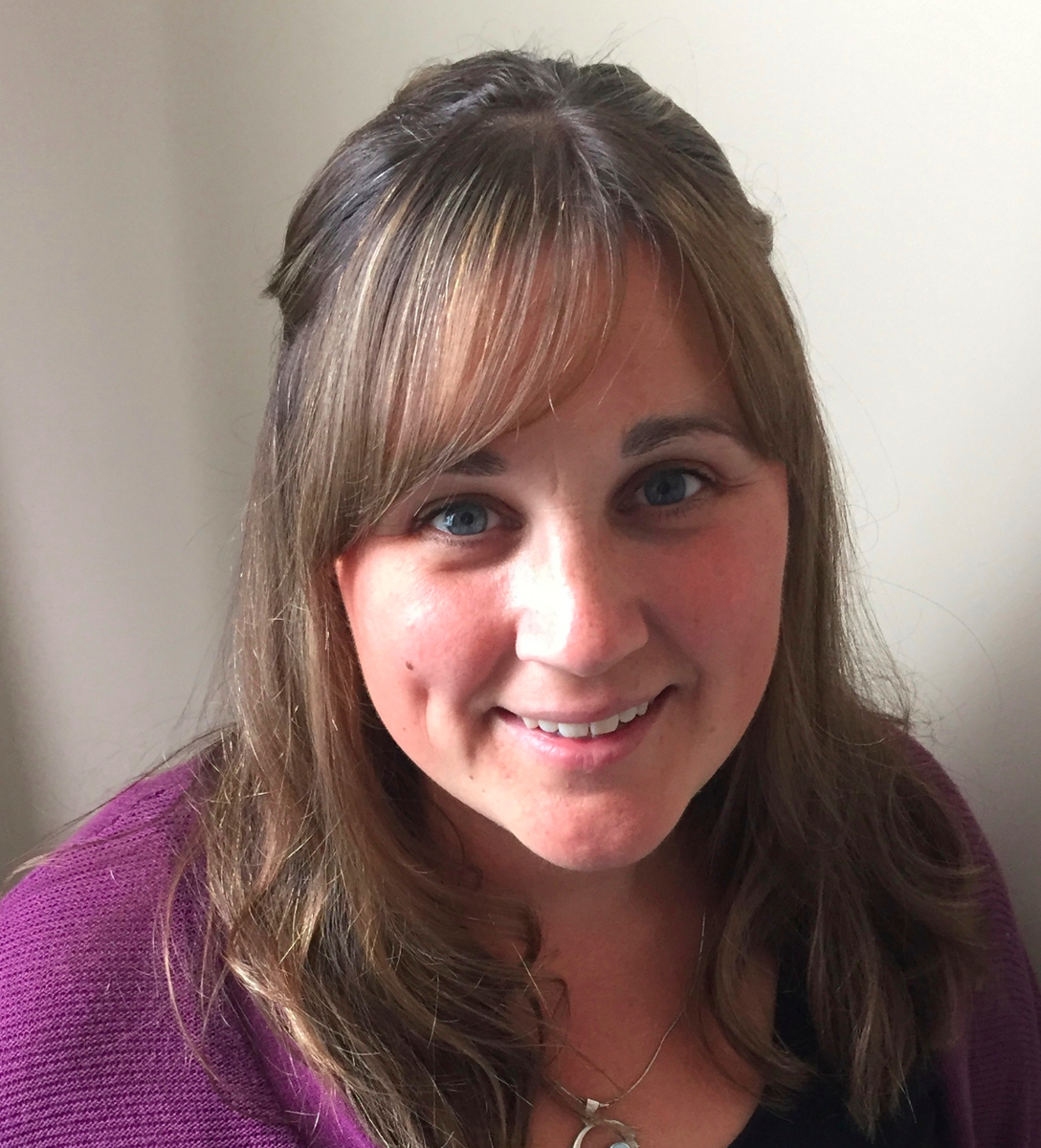 I tested my Urine hormones a year ago.  It led me to some eye -opening discoveries. 
I found out that my liver's phase two detoxification was quite low (I suspected as much) and that my estrogens were beginning to metabolize down a carcinogenic pathway.  THIS IS HUGE.  Essentially, this test allowed me to begin treating this issue before it became significant.
Blood would never have been able to show me this. 
If you would like to discover your hormone profile, as a Functional Medicine Practitioner, I have begun offering these tests. 
You can email me at [email protected] to find out more or sign up for a Functional Medicine Consultation here to test your hormones.
In good health, 
Keri Fulmore
Medical Intuitive, Functional Medicine Practitioner & Author
| | |
| --- | --- |
| New Insomnia Solutions | Tuesday, September 5, 2017 |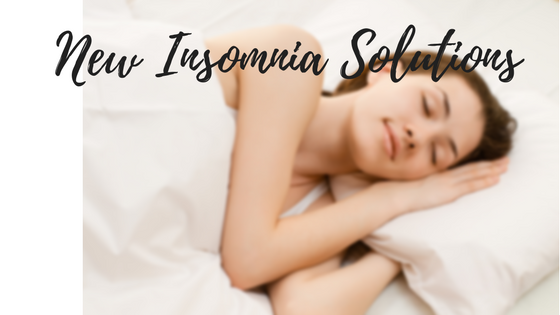 If you are suffering from insomnia, you understand how the sleepless nights can be frustrating.  You get it when I mention feeling like a zombie in the morning, and dragging yourself all day long.  Not getting 6-8 hours of REM sleep effects every aspect of your life.
Luckily, there are some great solutions that you may not know about.
But first, I think it is important to talk about the mental and emotional aspect of insomnia.  Insomnia is usually the last symptom in a stress response.  After a long bout of stress or life changes, the mind can have a hard time shutting off.  This is usually due to cortisol (our stress hormone) and a brain that has been wired for stress.  The first step in battling insomnia is to look at your life from a new perspective. 
Are you doing things that you don't like doing? 
Are you a people pleaser?
Do you over extend yourself to meet deadlines? 
Insomnia is a symptom that should prompt you to re-evaluate your life.  Not only should you re-evaluate your life, but re-training your brain to slip into the healing and relaxation response is necessary. 
There are two kinds of insomnia.  The kind where you can't seem to fall asleep no matter what you do, and the kind where you fall asleep but wake up frequently. 
Frequent waking can be a sign of high blood sugar or hypoglycemia, too much alcohol, caffeine, spicy foods and even stress. It can also be a sign that you are deficient in minerals like chromium, vanadium and manganese and other nutrients.  A deficiency in these minerals can cause you to wake every few hours with a hard time falling back asleep.
Then there is the "happy hormone" serotonin, which is a hormone that is a precursor to melatonin.  You make serotonin from the amino acid tryptophan.  But, when you are stressed for an extended period of time, serotonin depletion can happen. 
Did you know that 95% of serotonin is made in the gut?  Because the gut and brain are so closely linked, both stress and poor diet can lower serotonin. 
There are literally dozens of studies that show low serotonin and tryptophan levels lead to insomnia.  Some of the symptoms of low serotonin are waking feeling unrested, inability to stay asleep after getting there, and lying awake all night.
For many years now, studies have proven that the amino acid tryptophan (which is a precursor to serotonin), produces great sleep.  In fact, it has been shown to improve mental clarity in the day.  It can also be helpful for depression, pms, fibromyalgia, and anxiety as well as carbohydrate cravings and alcoholism.
Recently, I have learned through Functional Medicine that zinc or B6 deficiency can lead to insomnia. When you are deficient in B6, it can literally keep you awake all night.  Or, low zinc can cause a B6 conversion issue, which is needed to make more tryptophan and serotonin. 
6 STEPS YOU CAN DO TO FINALLY SLEEP
1 . De-stress – Try to turn off all electronics an hour before bed.  Meditate and deep breathe.  Both of these techniques have been shown to reduce the stress response in the brain. You can also try to laugh more during the day.  Laughter will help to reduce over all stress.  Lastly, re-evaluate your life and make sure you are leading from your heart not your head.
2. Stay away from PLASTICS – Too many plastics in your body lowers zinc.  Zinc is needed to convert B6 to an active form to produce tryptophan and serotonin.  So, Cut Plastics Out!
3. Optimize your gut health – 95% of serotonin is made in your gut.  If you have gas and bloating, alternating constipation and diarrhea, indigestion etc. The chances of curing your insomnia are not high.  Make sure you are eating whole foods, cutting out sugar, alcohol, caffeine, wheat and all gmo foods, corn and corn derivatives and soy.  Contact a good practitioner to help put a plan together for yourself.  I can certainly help!
4. Optimize your minerals – Make sure you are eating foods and even supplementing with a good multi-mineral.  Healthy chromium, vanadium and manganese help prevent blood sugar imbalances and frequent wake up. 
5. Eat plenty of B Vitamin rich foods -  You can increase B Vitamins using foods like nutritional yeast, nuts and seeds, fish, chicken, meat, eggs etc. 
6. Try out Tryptophan or 5-HTP – These are supplements that are a precursor to serotonin.  Serotonin is a precursor to melatonin which is our sleep hormone. 
*I should mention that if you are on SSRI's or anti-depressants you should not supplement with Tryptophan or serotonin as they interact.  *
*Of course, you should not start any new supplement or health regime without contacting your doctor. 
There are so many root causes to insomnia! If you would like help to get to the root of your insomnia along with a health protocol, contact me!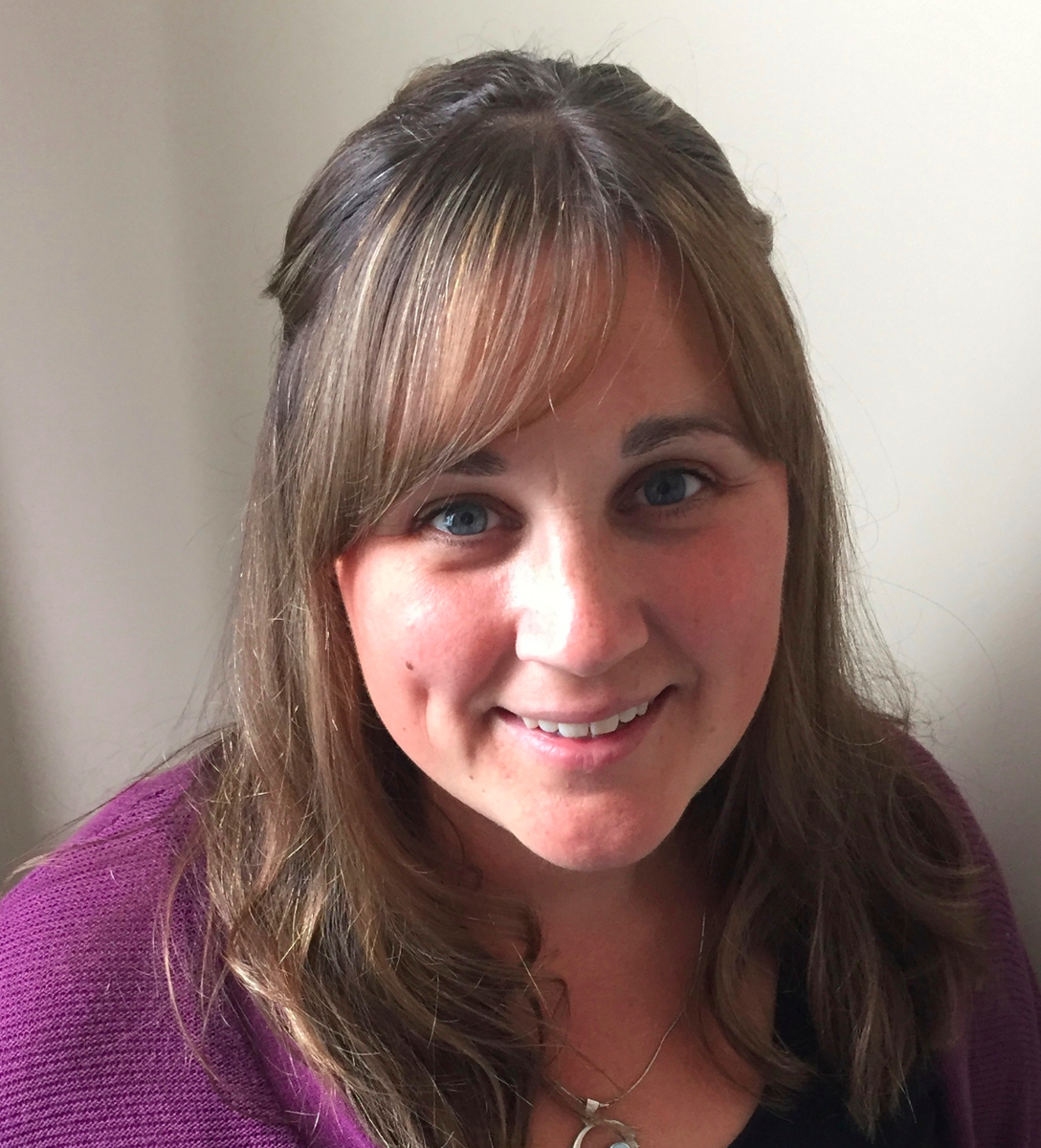 Click here to contact Keri Dennis-Fulmore
| | |
| --- | --- |
| 7 Solutions to Balance Hormones | Thursday, January 5, 2017 |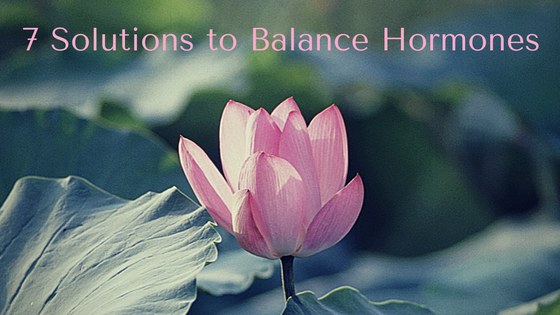 When most people think of hormonal imbalances, they're often left with the image of a woman who is tired, not sleeping well, feeling awful with crazy mood swings.
But, what if I told you that going through hormone changes happens to everyone, men included, and it doesn't have to be uncomfortable!
The trouble is that most people don't associate many symptoms of hormone changes with their hormones at all.  They wind up going from doctor to doctor and feeling no better.
For women, most of our hormone changes happen in the 40s and 50s, but some, can even have these changes in their early 30s.  However, when I see hormonal fluctuations happening in a woman's mid thirties, it is a sign to me that her lifestyle, diet, exposure to toxins and most importantly stress is too high.
For men, the most significant hormone changes happen in the 40s into early 60s.  Men can show signs of early hormonal changes as well, and not connect the dots.  Again, environmental toxins, lifestyle and way too much stress are at the root of early changes.
Most Common Symptoms of Hormonal Imbalances
Fatigue
Do you wake up foggy and feel like you need more sleep?  Do you feel sluggish and turn to coffee and other stimulants to pick yourself up?  This may get you through to the afternoon when you crash and feel like someone drained your battery.
A nap would be great, but instead you turn to more stimulants to get you through.  These are common symptoms of Adrenal Fatigue.  Not only is it a sign that you need to De-Stress your life, but that more focus needs to be put into nourishing yourself and building up your adrenal glands.
But, please DON'T forget the emotional, mental aspect of adrenal healing, as supplements are not usually enough.  It can take an overhaul in your mind body connection as well as your lifestyle to fully heal.
Insomnia and Frequent Waking
Do you spent most of your day tired, but when you finally lie down to sleep, you just can't seem to drift off into peaceful much needed sleep?  
Not only that, but do you also wake frequently and have a hard time getting back to sleep?  
Perhaps you turn to sleeping aids whether they are pharmaceutical or natural. Will you ever sleep without them again?
This is often a sign that your Cortisol (your stress hormone) is too high at night.  It is a sign from your body that your way of life needs changing. Your inner thoughts need to be addressed.
Frequent waking at night is also a sign that your body is not detoxifying well enough.  
Many people wake between 3-5 am and cannot fall back asleep.  In Traditional Chinese Medicine (TCM) there are specific times of day that show where most of your energy and blood is.
Between 3-5am is the time of the liver.  So, if you are waking during this time, it is likely a sign that your liver is out of balance, stressed and or overburdened with toxins.  
Persistent Weight Gain and Weight Loss Resistance
You can't understand where all this weight is coming from, especially in your midsection.  You watch your calories, make sure to exercise, but alas, you are still putting on weight.  Is weight not supposed to be all about calories in calories out?
In most cases this is a sign that your hormones have taken your metabolism hostage.  Most often it is a sign that your adrenal glands are secreting way too many stress hormones, your thyroid may be sluggish, even if your blood labs are normal, your body could still not be getting enough thyroid hormones in the cells.
Not only that but estrogen dominance in both men and women can really create the perfect fat storage recipe.
Needless to say, that most of the time, stress is the biggest root issue.  When there is too many stress hormones, the adrenal glands secrete too much Cortisol and begin to steal sex hormones to make more Cortisol, depleting them.  
When your body is stressed, detox pathways can also become sluggish, which affect the conversion of T4 to T3 (thyroid hormones) in your liver.  
Poor Digestion
Your digestion can be directly affected by hormone changes and imbalances.  Woman, you know what I'm talking about when I say that hormones can cause loose stool, gas, bloating, constipation and even indigestion.  
A woman's cycle can often bring with it digestive woes.  But, one of the symptoms of hormonal imbalances is chronic or cyclical digestive issues.  If you have bloating and gas among other digestive symptoms, it is worth it to think of your hormones as a culprit.  Of course your diet should be looked into for improvements.
Hair Thinning
Hair thinning is often a sign that androgens and testosterone levels are out of balance.  Even for women, testosterone and androgens can be too high and contribute to hair thinning, especially in the front and on top of the head.  
Aging does not have to affect your hairline.  Keeping your hormones balanced is part of keeping your youthful thick and lustrous hair.
Sweating
Many women experience hot flashes and night sweats as a sign that their hormones are changing.  However, this does not have to be the case.  
It is a sign that the body is out of balance and needs some hormone assistance.  This does not have to include hormone replacement therapy, but instead can be done by addressing the entire endocrine system along with getting the detoxification pathways working efficiently.
Low Sex Drive
Have you lost interest in sex?
Loss of interest and lack of performance can be linked to hormonal imbalances.  Often, once hormones are optimized, your sexual vigor returns.  Boosting and balancing hormones is a good way to do this.
7 Solutions to Balance Your Hormones
1.  De-Stress
I find that most hormone imbalances begin with stress.
Chronic Stress
Drains your hormones
Inhibit your hormonal detox pathways
Reduce good bacteria in your gut
Steals sex hormones to make more stress hormones
All of this can leave you fatigued and in hormonal hell.
Make sure to cut the stress out of your life.  Follow your heart, breathe and even meditate.  But most of all, your body is crying out for attention and love, so make sure you pay attention and take the time for self-care.
2.  Hormone Balancing Diet
Cut out all of the junk.  No more sugar, alcohol, gluten, packaged or processed foods, corn or corn derivatives, soy or even coffee.  Instead try to feed your body nourishing whole foods that are anti-inflammatory, nourishing and hypo-allergenic.  Often, diet can be enough to ease a lot of hormonal symptoms just in itself.
3. Fibre
Fibre will help to keep your bowels regular, which will help to keep excess hormones from reabsorbing into your body.   Fibre from ground flax seeds, ground pumpkin, chia seeds are quite helpful and not dehydrating.  
Start slow with fibre and work your way up to at least 35 grams of fibre per day.  Extra fibre feeds the good bacteria in your intestines so that you can have happy and healthy digestion.
4. Eat Fat
Make sure that you are taking in enough good healthy fats.  Fats are necessary for the production of hormones, anti-inflammatory, brain nourishing and often help with all sorts of hormonal symptoms.
Healthy Fats are:
Avocado
Coconut
Grass fed organic butter
Omega fish oils (higher in EPA than DHA)
Algae (spirulina, chlorella & E3Live)
I have found fats helpful for hormone symptoms like insomnia, dry eyes, weight loss resistance, fatigue etc.
Nordic Naturals is a great Fish oil to supplement your fat intake.  You can buy Fish Oil here
5. Probiotics
Your hormones are connected to the health of their digestive tract.
The digestive tract excretes excess and toxic hormones and good bacteria (good flora) assists with hormones optimization.  
Anyone dealing with hormonal issues should be looking to healing their digestion and supplementing with a good quality probiotic like Natren and Metagenics.
You can read more about Metagenic probiotics here
Another good way to increase good flora in your digestive tract is to make and eat fermented foods like sauerkraut, kefir and kombucha.  
Just a little bit of ferments with each meal can introduce billions and billions of good bacteria into your body.  
6. Exercise
Exercise helps to detox your body through the skin, gets the lymphatic system moving and even helps to keep your hormones balanced.  
It is a good idea to get an hour of exercise a day.  If an hour is too long, start small and slowly work your way up.
7. Get Tested
Figuring out where your hormones are in your blood and cells will help you to know exactly what to take to balance them.  
I recommend the Dutch Steroid Urine Hormone test to know what hormone pathways are out of balance.  
A blood test will show your estrogen levels, but it will not show which estrogens are high or low in the body.  
A urine test shows the good and unhealthy estrogens.  It will also show if your testosterone hormones are being converted properly, your androgen levels, adrenal hormones and even your Dhea levels.  It is very helpful in solving the hormone puzzle.  I offer this test if you are interested.
There are also many herbs and tonics that can help to balance hormones.  It is recommended to work with a qualified practitioner to make sure you are taking the right things for your body.  There is no one program that works for everyone!
To make an appointment with me email [email protected].  I am here to help...
| | |
| --- | --- |
| Digestive Tips for the Holidays | Wednesday, December 21, 2016 |
Do you suffer from fatigue, digestive fullness and gas after a heavy meal?
I know I have before.  I wanted to give you some great tips before you set out to visit your friends and loved ones over Christmas Holidays. 
We all know that lots of socializing over the holidays, means lots of yummy food and over indulgance.  It can also mean bad food combining, which is a recipe for a gassy bloated couch potato. 
Digestive Tips to Reduce and Prevent the Holiday Heaviness in Your Tummy
1. Digestive Enzymes with Betain HCL - I love to use 'NOW Super Enzymes.'  I find them to work extremely well for me and most people who use them.  Take 15 mins before eating.  This will help increase your stomach acid so that you can digest a big heavy meal with ease and comfort. They contain Betaine HCL and other plant digestive enzymes to make your digestion work like a well oiled machine. You don't need to feel lethargic after your holiday meal.
2. Digestive Bitters - This is another favourite to use before a meal.  Just a teaspoon of digestive bitters 15 mins before eating will get your liver secreting bile, which will increase your stomach acid and other digestive enzymes for better digestion.  
3. Apple Cider Vinegar - Just a capful of apple cider vinegar in an ounce or more of water 15 mins before a meal helps to increase your stomach acid.  Some people love Apple Cider Vinegar as much as other enzymes and digestive tricks.  It will help to digest your meal with ease leaving gas and bloating out of the equation. 
4.  Peppermint Tea or Peppermint Essential oil - If you don't have any of the above or just forget, you can sip on a cup of peppermint tea after a big meal.  Peppermint tea will help you to move the bloating and digestive heaviness through your digestive tract with ease.  You can also use a high quality essential oil like DoTerra or Young Living peppermint oil.  Just a drop in a warm cup of water will be enough. 
So there you have it.  Just some tips to help make your holiday and digestion lighter. 
Happy Holidays, Merry Christmas and Happy New Year!
| | |
| --- | --- |
| Discover How to Improve Your Health for FREE! | Wednesday, December 14, 2016 |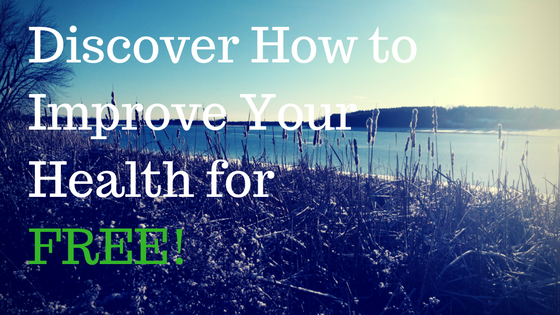 Have you ever noticed how good you feel when you spend time in nature?  If you do not know what I am talking about, it is time to get out into nature.
Nature is in a constant state of UNCONDITIONAL LOVE and it gives without expecting anything in return.  Unconditional love is what all the great sages and healers like: Jesus, Buddha, and even Mother Theresa embraced.
We have a lot to learn from nature.
Albert Einstein understood it when he said, "Look deep into nature and then you will understand everything better."
I have noticed, in general, people who spend little time in nature have more health issues.  Is there a connection?  Personally, I believe there is and you might think so after reading the scientific health benefits below.
First, I would like to share with you how nature has favourably impacted my life.
I find time spent in nature helps return me to who I am….my natural, balanced state…. I believe nature does this for everyone.
It happens because being in nature, naturally, aligns you with the healing vibration of unconditional love.  When in a state of unconditional love, your stress melts away and your body can heal much faster.
You breathe in more oxygen, as well as, therapeutic scents of trees and plants.
8 Things Nature Has Taught Me
Slow down and enjoy the moment
Unconditional love
Inner peace
Forgiveness
Adaptability
Energy Medicine
Herbal Medicine
Wild Food
The famous Chinese philosopher, Lao Tzu said it well, "Nature does not hurry, yet everything is accomplished.
I like to walk in nature every morning before I start my day.  Also if I have had a particularly stressful day, I like to go into nature as it is naturally therapeutic.  I have also found my intuition has been enhanced by spending time in nature.
For years, I have been intuitively guided to daily spend time in nature in order to balance myself and improve my health.
And guess what, science has done several studies that prove this is exactly what is happening.
Scientific Health Benefits of Nature
Improved short-term memory
Restored mental energy
Stress relief
Reduced inflammation
Better vision
Improved concentration
Sharper thinking and creativity
Anti-cancer effects
Immune system boost
Improved mental health
Reduced risk of early death
If you are struggling with any health issues, I challenge you to daily spend time in nature and see how much your health improves.   
All health issues are a sign the body is out of balance and not in its natural state.
Positive Improvement of Health Issues With Time Spent In Nature
Memory problems
Mental fatigue
Fatigue
Autoimmune disorders
Inflammatory bowel disease
Depression & anxiety
ADHD & ADD
Cancer
Hypertension
Myopia (nearsightedness)
If you want to enhance your health… get out into nature.  Its therapeutic benefits are FREE!
I would love to hear any comments you have about nature.  Share them below in the comment section.
* Click here to read scientific studies done on people in nature. 
| | |
| --- | --- |
| How Self-Love Can Help You to be Healthy | Wednesday, October 26, 2016 |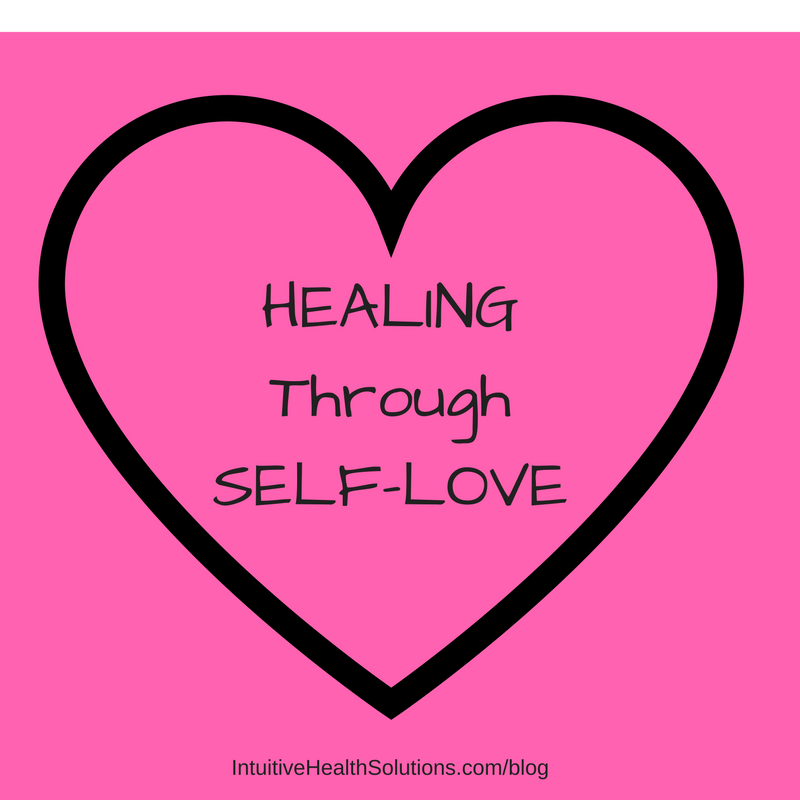 Your ability to be healthy is greatly dependent on how well you adapt.  This is because when you are adaptable and exposed to different stressors you have an easier time moving through them without being taken out by stress.
Let's face it, STRESS is unavoidable.  You never know when it will show up, the best thing I have found that can be done is have a preventative strategy and adapt to it when it does show up.
How Does Stress Effect Your Health?
Stress can be the # 1 cause of health problems because it drains your energy and makes you more vulnerable to make poor choices, which can translate to your physical body's intelligence lowering. 
Depending on the amount of energy you invest into the stressors, your body can have trouble coping and regulating autonomic functions like immunity, repairing itself, digesting food, circulating blood, breathing, balancing hormones and even regulating your sleep cycle.
There are several health issues linked to stress:
High blood pressure
Heart problems
Asthma
Obesity
Diabetes type 2
Headaches & migraines
Depression
Anxiety
Gastrointestinal disorders like chronic heartburn & irritable bowel syndrome (IBS)
Brain lesions (which are linked to Alzheimer's disease)
Premature aging
Premature death.
To prevent and heal from health issues you have to change and be adaptable.  I have found that I am much more adaptable when I am in a loving mind set.
Be Adaptable to Prevent and Heal from Health Issues
Your mental state is essential.  When stress shows up in your life make sure you view and approach it with a solution oriented mindset. 
Be aware that there is a stress, but put your attention on how to solve it rather than the problem itself. 
To prevent and heal from health issues it is important to focus on unconditional love.  If you don't know what unconditional love is, let me tell you.  Unconditional love is loving someone, something, even yourself despite who or what they are, their beliefs, actions, feelings, etc. 
I know it can be challenging to love yourself and some people because you may feel they don't deserve it, they are mean, they have done bad things, maybe even killed people.  But how do you expect you or that person to change if they only receive negative feelings, thoughts, or actions towards them. 
I have found to BE Unconditional Love, the first step is to develop Self-Love. 
Watch the video below, I explain a simple technique called Self-Love Supercharger: 9 Steps to Developing Self-Love.
It is a great exercise to do every day in the morning or when you are feeling out of balance to bring you back to a state of balance.
Self-Love Supercharger: 9 Steps to Develop Self-Love
Close your eyes and put your awareness on your heart.
While focusing on your heart pay attention to what it tells you.
Any feelings or thoughts that come up, which are not healthy or balanced feeling, let them go.  To let them go, say, "I let this go."
After your heart feels clear and balanced, say, "I love myself unconditionally."
Allow in new healthy energy to fill you up.  To help with this say, I am open to allowing new healthy energy into my life."
Integrate this new healthy energy.  To do this say, I integrate the new healthy energy in my life.
Visualize your heart being bright pink and take 7 deep breaths imagining your heart filling with pink energy and it getting bigger and expanding outward as far as you can imagine.  (You can do more that 7 breaths if you want.)
Place your palms over your heart and take 9 deep breaths with a smile on your face.
Laugh (even if it is fake).   
If you want to work with me one on one to develop your Self-Love, you can do so by signing up for a Distance Healing Session
| | |
| --- | --- |
| How to Boost Your Heart's Coherence and De-Stress | Monday, October 17, 2016 |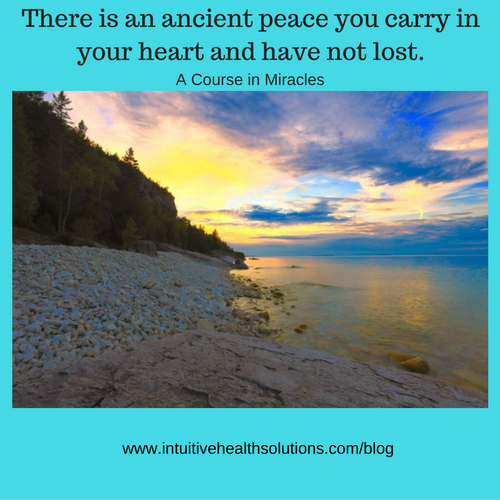 "Healing is accomplished the instant the sufferer
no longer sees any value in pain."  
~ A Course In Miracles
Have you ever wondered if STRESS is the reason for your HEALTH ISSUES?
You try to keep your level of stress, but you still find yourself stressing about what to make for dinner, juggling work and kids, paying your bills on time and even trying to fit in some needed  "me" time. 
Have you noticed that you just don't feel as alive or happy as you once did? 
Your body is telling you that it needs rest, you are fatigued, not sleeping well and even find yourself a little irritable, but you keep pushing yourself anyways.  
Your body is silently beginning to give you warning signs that you need to unplug and tune in! 
I know I have been there before.  In fact, I believe that stress is what brought about my very own health storm.  Learning to unwind the after effects of stress, has been one of my greatest healers.
So, if you feel emotional turmoil more than you feel happy, it's time to listen to yourself and do something about it!  
The Scoop On Stress
Stress really is all about your perception of life and your experiences.  It is often related to your feelings of:
Anxiety
Irritation
Hopelessness
Helplessness
Despair
Self -judgement
Resentment
Insecurities
Self-doubt 
Over time, these negative feelings and emotions become compounded and can trigger chronic stress. 
Stress is the number one reason for illness these days, and your body's symptoms are often just signs and signals that something is wrong.
Negative emotions and feelings have been known to drain energy and wreak havoc on the body.
These emotions trigger the body's stress response and autonomic nervous system to a cascade of stressful hormones.
Stressful hormones not only lower your immune system, but they also weaken your digestion and steal your sex hormones and deplete them.  This leads to a chaotic rhythm of your heart. 
What is a Chaotic Rhythm of the Heart?
When your heart and brain have poor communicating, physical issues begin to show up in the body. 
People often treat these symptoms with medications, nutritional supplements, diet changes and even new exercise programs. 
The truth is, nobody wants to feel awful or imbalanced. 
The trouble with only treating your body on a physical level is that usually your results are not sustained.  If the original thought patterns and stressors is not dealt with, new symptoms often arise.
I know for me, I had to learn to tame my self judgement and learn acceptance so that I could surrender to the things I could not change.  It was a process of letting go, that brought me greater healing.
Your approach to healing needs to incorporate all levels for permanent healing.
Symptoms Of Stress
Stress has a laundry list of symptoms that manifest in the body over time.
A chronically stressed person can have any of the following symptoms and sometimes multiple symptoms.
They are...
Fatigue
Brain Fog
Memory and Concentration issues
Weight Gain
Hormonal Imbalances
Thinning hair
Blood Sugar Regulation issues
Inflammation
Autoimmunity
Digestive Issues (the gut is our second brain and closely linked)
Sluggish Detoxification Pathways
Multiple Chemical Sensitivities
Musculoskeletal imbalances and Misalignments
Cardiovascular issues
Respiratory issues
Anxiety
The list is long and certainly this is not an exclusive list.
Stress showed up in my body as chronic pain.  This triggered an even bigger stress response which eventually created a lot of hormonal imbalances for me.  I had burning pain, which created weight gain and sluggish detox pathways.  This was all from stress.
As you can see Stress can truly create many issues in the body and not something you want to let take control of your life and body!
Remember: illness is just a reminder that you have stepped away from wholeness.  It's finding your way back to that which will bring about TRUE HEALING.
"The miracle comes quietly into the mind
that stops an instant and is still"
~ A Course in Miracles
5 Steps To Quiet Your Mind and De-Stress For Better Health
Breathe  - Take time for yourself each day to slow down and focus on deep breathing.  Deep slow breaths have actually been proven to turn down the sympathetic nervous system or stress response and engage the parasympathetic healing response. 
It takes a few minutes each day to achieve a peaceful state through our breath.  
I have incorporated deep breathing into my everyday routine.  It brings about a sense of peacefulness and an abiltiy to cope with stress like I have never had before.
Visualize Love and Happy Memories  - One of the best ways to improve the communication between your heart and your brain is to sit quietly each day, or whenever you are feeling stressed, and visualize a happy, joyful, loving memory.  It can be something that you hold dear in your heart, or something you make up.  All it has to do is bring you that warm feeling in your heart.  At the same time breathe in deeply and slowly. 
I also find it helpful to smile while doing this.  It has been proven that a smile will release your happy hormones, even if it is a fake one! 
According to the HeartMath Institute, healthy heart and brain communication is beneficial for improving Heart Rate Variability. As a result, communication between the heart, brain and nervous system are enhanced. 
They have proven that positive emotions are associated with a specific physiological state called coherence.  When your heart and brain are in coherence you will have improved physiological functioning, emotional stability and mental performance.  So in a nutshell, better heart brain coherence equals less stress and negativity.
I have used the HeartMath clip in my meditations and deep breathing exercises to monitor how relaxed and peaceful my body is.  I have found it a great tool for showing me when I am stressed and how to better relax.
Make Time For Yourself – In today's busy and hectic world, it is even more important to take time out for yourself.  Create time by...
Taking an uninterrupted bath
Going for a walk in nature
Meditation
Spend time with your friends
Getting out of your routine and remembering to have fun is what this is all about.  With more joy comes less stress, and a healthier immune system.
For me, daily walks on my own are a time to reflect, be one with nature and they bring me a sense of peace.
Let Things Go – In the past I used to get caught up in the small things.  Like whether or not the dishes got done, or the mess the kids left behind.  I realized that those things didn't deserve my energy.   I have gotten into the habit of using a great destressing technique called, Will this matter later.
The technique is done when stress arises by asking yourself, "Will this Matter Tomorrow?"  If the answer is no, then I do something that will bring me joy instead.
Count Your Blessings – I used to get caught up in all the things that were wrong with my life, and all the things I did not have.  Focusing on those things only intensified the amount of stress I had."
To change this I made a Gratitude List.  I wrote down all the things I am thankful for.  I focus on that list every day and add things when appropriate.  It reminds me that I have so much to be happy about.
Are there things that you do to combat stress and your inner thought demons?  I would love to hear from you!  Leave me a comment below.
| | |
| --- | --- |
| THE STORM THAT TORE ME DOWN AND GIFTED ME SO MUCH | Friday, September 16, 2016 |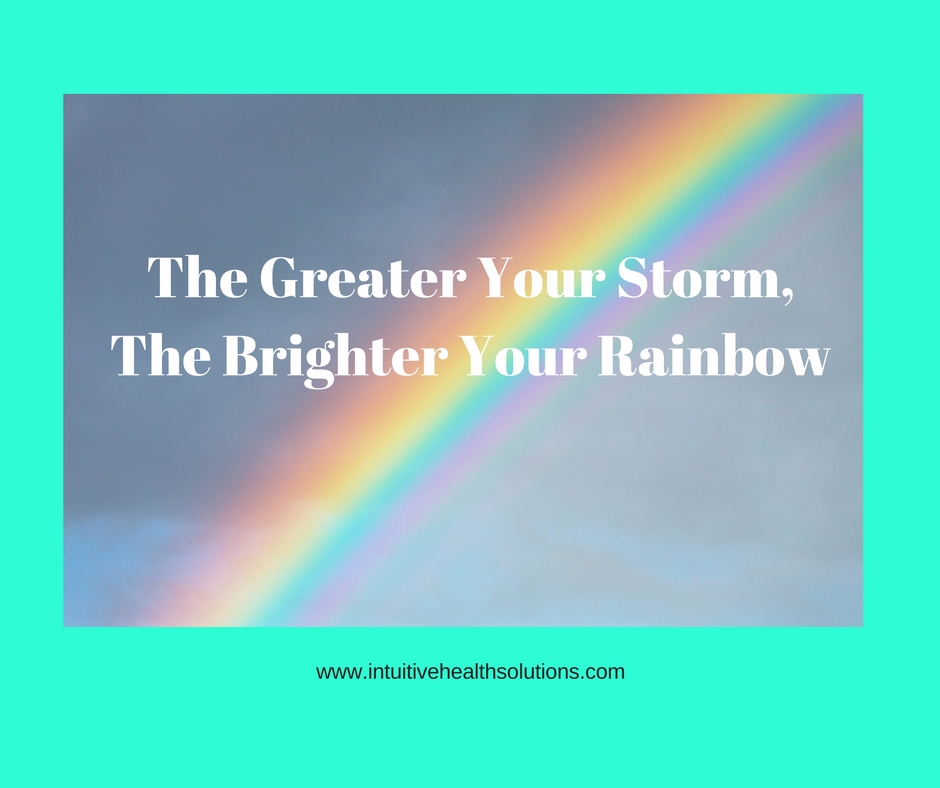 The Storm
My Storm came in like a tornado; it thundered in, twisted up my life, and left a lot of damage in its path!  I didn't even see it coming.
In a matter of a day, my body fell apart.  It had forsaken me.
How could this happen?
One minute I was doing great. The next minute I was riddled with body wide nerve pain.
What I didn't know was that I was stressed out.  I was not completely happy.  I had just given birth to a beautiful baby by emergency C-section, moved across the country to take care of my sister who was very sick, at the time, and opened an acupuncture clinic with my husband while doing Medical Intuitive Readings online.
I was tired, stretched myself too thin, and stressed out my body.  Not to mention my sleep was horrible with a nursing baby.  I was burnt-out, and it caught up to me.
Finally, my body  got my attention to slow down when I experienced sudden nerve pain from head to toe, tremors in my legs, headaches, and felt like I was walking on a ship. I suffered an overnight shakeup brought on by the Storm.   
I Had To Re-Invent Myself!
Over the next couple years, I had to reinvent myself.  I had to learn to trust and use my intuition to heal, because there was certainly no one else to do it for me.
I had to learn to take control of my mind and my body.  I consciously changed myself, and I listened to my intuition, most of all. I had a little voice guiding me. The same voice that I use everyday to help others with their health.
I had to trust that voice for my own health, battle my ego, and the will of what others thought was best for me.  Not an easy task!  But I am so thankful for the experience, as I now know what it truly means to be unstoppable.  To follow my heart, and let nothing keep me from my own truth.  I know what it means to value every moment and have gratitude for small things in life.  I also know my health did not move in a positive direction, until I got quiet within myself and truly listened to my inner voice.
I am happy to say that today I am well.
Today, my intuition for myself and to help others is on fire!
So What is a Storm?
Virtually all of us, at some point or another, will go through some kind of Storm in our lives.
The Storm can be anything from a healing crisis of acute magnitude to  emotional upheaval such as divorce or separation.   Whatever the Storm, it will rock your world. It will turn your life inside out and make you re-evaluate your entire life.
Essentially, I believe that the Storm is there to strengthen your faith, to bring you closer to the Divine, and to deepen your connection to your  spirit. It can also be your greatest teacher, if you surrender to it and let it guide you.
The Storm helps you wake up to the joy of life and follow your bliss, because life is short.
The Storm will make you go deep and listen to your innermost thoughts and feelings.  It will show you what you need to work on, and it will also strengthen your intuition, if you listen.
But make no mistake, you will come through the Storm and you will be changed in ways you could never imagine!
THE STORM IS A GIFT
How to Move through the Storm Gracefully
My advice for moving through your Storm is to first accept that it is happening. When we fight the flow of the Storm, life only feel worse and brings out your deepest fears. But if you accept your situation and make peace with it, it can show you things you may have never noticed in a fight or flight state of mind.
The second thing I recommend is to surrender. Surrender to the present moment. It may be a part of acceptance, but surrendering means to me, "To let go to the flow of divine will."
Perhaps, your situation is meant to be.
What would peacefully moving with the flow of your situation look like rather than fighting it?
The third thing I recommend is to get quiet within yourself and work to strengthen your intuition.
Your inner self has all the answers you will ever need. It will guide you to places that need healing, locked up emotions that need to be let go, and it will even tell you why the Storm is happening.
Your inner self will always guide you to the right healer, the right place and even the right moment. So instead of feeling alone in the Storm, get to know your inner self and cultivate the love of your soul.
Trust me, the Storm will transform your life in the greatest way possible and there is a rainbow waiting for you on the other side.
If you need help to move through your Health Storm, I can assist….Sign up for a Medical Intuitive Reading to get answers and solutions to your most intense health challenges.
Contributors
Latest Posts
Archive
2023

2022

2021

2020

2019

August

July

June

May

February

January

2018

2017

September

August

March

February

January

2016

December

November

October

September
Tags
Everything
Happy
Relaxing
Outdoors
Healing
Medical Intuition
Emotional healing
stress
De Stress
Anxiety
heart health
fatigue
self-love
unconditional love
energy healing
self healing
Qi Gong