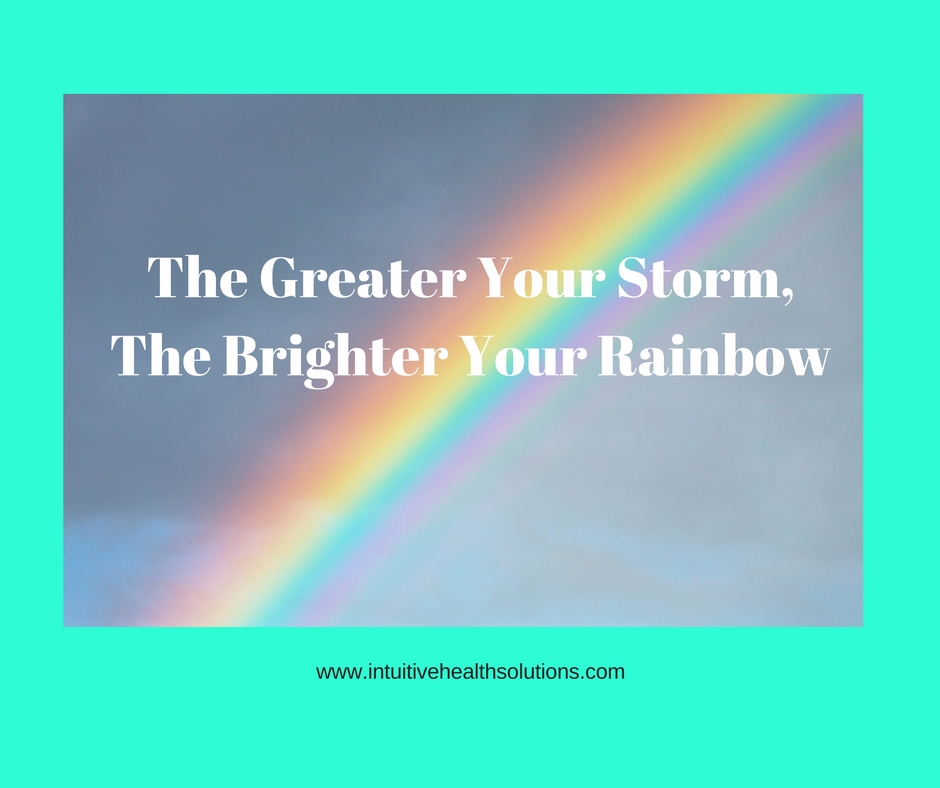 The Storm
My Storm came in like a tornado; it thundered in, twisted up my life, and left a lot of damage in its path!  I didn't even see it coming.
In a matter of a day, my body fell apart.  It had forsaken me.
How could this happen?
One minute I was doing great. The next minute I was riddled with body wide nerve pain.
What I didn't know was that I was stressed out.  I was not completely happy.  I had just given birth to a beautiful baby by emergency C-section, moved across the country to take care of my sister who was very sick, at the time, and opened an acupuncture clinic with my husband while doing Medical Intuitive Readings online.
I was tired, stretched myself too thin, and stressed out my body.  Not to mention my sleep was horrible with a nursing baby.  I was burnt-out, and it caught up to me.
Finally, my body  got my attention to slow down when I experienced sudden nerve pain from head to toe, tremors in my legs, headaches, and felt like I was walking on a ship. I suffered an overnight shakeup brought on by the Storm.   
I Had To Re-Invent Myself!
Over the next couple years, I had to reinvent myself.  I had to learn to trust and use my intuition to heal, because there was certainly no one else to do it for me.
I had to learn to take control of my mind and my body.  I consciously changed myself, and I listened to my intuition, most of all. I had a little voice guiding me. The same voice that I use everyday to help others with their health.
I had to trust that voice for my own health, battle my ego, and the will of what others thought was best for me.  Not an easy task!  But I am so thankful for the experience, as I now know what it truly means to be unstoppable.  To follow my heart, and let nothing keep me from my own truth.  I know what it means to value every moment and have gratitude for small things in life.  I also know my health did not move in a positive direction, until I got quiet within myself and truly listened to my inner voice.
I am happy to say that today I am well.
Today, my intuition for myself and to help others is on fire!
So What is a Storm?
Virtually all of us, at some point or another, will go through some kind of Storm in our lives.
The Storm can be anything from a healing crisis of acute magnitude to  emotional upheaval such as divorce or separation.   Whatever the Storm, it will rock your world. It will turn your life inside out and make you re-evaluate your entire life.
Essentially, I believe that the Storm is there to strengthen your faith, to bring you closer to the Divine, and to deepen your connection to your  spirit. It can also be your greatest teacher, if you surrender to it and let it guide you.
The Storm helps you wake up to the joy of life and follow your bliss, because life is short.
The Storm will make you go deep and listen to your innermost thoughts and feelings.  It will show you what you need to work on, and it will also strengthen your intuition, if you listen.
But make no mistake, you will come through the Storm and you will be changed in ways you could never imagine!
THE STORM IS A GIFT
How to Move through the Storm Gracefully
My advice for moving through your Storm is to first accept that it is happening. When we fight the flow of the Storm, life only feel worse and brings out your deepest fears. But if you accept your situation and make peace with it, it can show you things you may have never noticed in a fight or flight state of mind.
The second thing I recommend is to surrender. Surrender to the present moment. It may be a part of acceptance, but surrendering means to me, "To let go to the flow of divine will."
Perhaps, your situation is meant to be.
What would peacefully moving with the flow of your situation look like rather than fighting it?
The third thing I recommend is to get quiet within yourself and work to strengthen your intuition.
Your inner self has all the answers you will ever need. It will guide you to places that need healing, locked up emotions that need to be let go, and it will even tell you why the Storm is happening.
Your inner self will always guide you to the right healer, the right place and even the right moment. So instead of feeling alone in the Storm, get to know your inner self and cultivate the love of your soul.
Trust me, the Storm will transform your life in the greatest way possible and there is a rainbow waiting for you on the other side.
If you need help to move through your Health Storm, I can assist….Sign up for a Medical Intuitive Reading to get answers and solutions to your most intense health challenges.