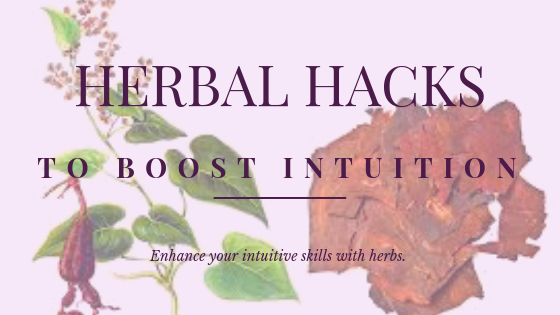 In order to have the best intuition you need to have a vital mind and body.
Many people tell me they don't trust their intuition or think it is unreliable.   What I find with these people is their vitality is low.
The reason for this, is because their minds and bodies are clogged up with toxins and lacking certain nutrients to perform on a consistent basis.
You can enhance your intuition with herbs whether you are just starting out using your intuition or you have been using it for a while. 
I know this to be true, because I did it. 
There are two herbs that work together synergistically to feed and nourish your intuition.  I'm talking about Fo-ti (He Shou Wu) and Gotu Kola.
Together these herbs bring together one of the most important Traditional Chinese Medicine rejuvenates with one of the most important Indian (Ayurveda) herbs.
Both are used to counter the effects of aging and revitalize the mind and body.
Fo-ti for building and rebuilding tissues
Gotu Kola for revitalizing the mind.
Why do these Herbs Enhance Intuition?
Fo-ti
Fo-ti enhances intuition because it builds up the physical life force of the body. 
It builds blood and sperm and makes the ova more vital.  Thus, considered to be a primary fertility-enhancing herb.  It strengthens the muscles, tendons, ligaments and bones. It strengthens the kidneys, liver and nervous system and prevents premature aging.  It's a famous herb for restoring head hair from grey to its natural color. 
Research has demonstrated that Fo-ti can greatly increase superoxide dismutase (SOD) activity.  SOD is a powerful natural antioxidant and free-radical scavenger that has powerful anti-aging properties.  Fo-ti also inhibits beta-monoamine oxidase.
Gotu Kola
Gotu Kola enhances intuition revitalizing the nerves and brain cells.
Gotu Kola is used for increasing intelligence, longevity, memory and decreasing senility and aging.  It fortifies the immune system, both cleansing and feeding it and strengthens the adrenal glands.  At the same time, it is a powerful blood purifier for chronic skin conditions like eczema and psoriasis.
It's considered one of the most spiritual of all herbs.  Used by yogis as food for meditation.  It awakens the crown chakra and helps balance the right and left hemispheres of the brain.
How to Ingest Fo-ti & Gotu Kola?
As a decoction (tea) I recommend taking these herbs together in equal portion and adding a little bit of fennel to assist with digestion and assimilation.
Another way to take these herbs is via tincture (alcohol extraction) in equal portions. 
Interested in learning about other foods, supplements and techniques to enhance your intuition and life force?
Check out the Intuitive Energy Healing Course, where Keri and I will be teaching all about it.