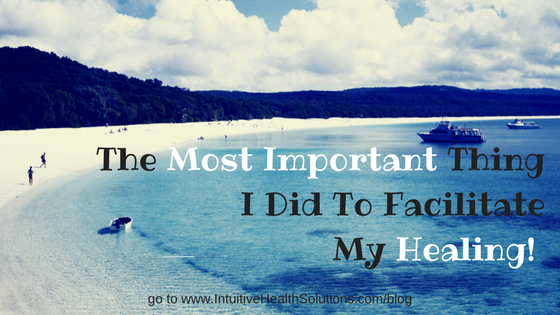 One of the things that came up for me on my journey to wellness was a lot of fear in trusting new things. 
Would this new treatment make me better or worse? 
Could I handle the changes if they were not favourable? 
Did this person really know what they were doing to treat me properly?
What I didn't realize was this way of thinking was the wrong approach entirely.  I was living in fight or flight.  I was living in a fear-based mindset.  I expected the worst, so I would not have the rug pulled out from under me.
With every new treatment I had oodles of hope, but deep down I was scared of the outcome.  At a core level I didn't think it would work.
This way of thinking never brought me the right therapies or the right environment for healing.  All it brought me was more fear, more pain and even more of what I didn't want in my life….  STRESS!
Did you know that this type of negative thinking, also called 'worse case scenario thinking' is seen and felt as stress to the body?
Stress is not something you want to be dancing with on a daily basis.  Chronic stress will NEVER open you up to Health and Healing.  It actually creates the opposite effect.  
It took me a long time to realize that I was blocking my own healing by the way I was thinking. 
I was causing myself stress!
Stress and Healing
The funny thing about stress is that people often do not even realize that they are stressed!
I didn't. 
I was happy with my career, my family life, my marriage, my life seemed flawless at the time!
So, if someone asked me if I was stressed, I would have said no.  I loved my life.
I had no idea that my own thoughts, my innermost darkest thoughts, that played around in my mind day after day could be causing so much turmoil for my body.
I was a 'worst-case scenario thinker.' 
Even worse than that, I was hard on myself.  I didn't except myself for what I was.  I didn't love every inch of myself.  Instead, I judged myself everyday. 
When constantly thinking that the other shoe is going to drop, or wishing for something better than what's there, it causes a huge amount of stress to the body.
I found that De-Stressing and checking in with myself everyday was paramount for my healing.
4 Simple De-stressing Techniques for Self-Healing.
1. Check Your Thoughts – If you are prone to worry and fortune telling about the outcome of your health and future, there are simple techniques.  I found that when I had a fearful thought or worry, I stopped and asked myself, "I am 100 percent sure that what I am thinking is true?"  
If the answer is "no," I let it go.  Unless you are sure of the outcome, don't give it energy.  I have also found that asking myself, "Will this matter tomorrow?" Is just as important. 
If what you are worrying about will not matter tomorrow, what is the point about stressing about it?  Be sure that what you are giving your energy to is worth it!
2. Meditate and Deep Breathing – Meditation and inner reflection is really important for self-healing.  Your body has all of the answers that you need when it comes to healing.  Taking the time to get quiet with yourself to ask your body why you are having a certain problem is important.  With practice you will hear your inner voice and it will 'no doubt' guide you to healing.  So don't forget to ask!
Deep Breathing is just as important   A deep breathe lets your body know that you are relaxed and there's nothing to worry about.  It also engages your parasympathetic healing response.  This is the opposite of your stress response.  Because stress is the number one cause of most health issues, deep breathing is essential.
3. Positive Reinforcement – It does a body no good to think judgemental or hurtful thoughts towards one's self.  It is important to stop negative self -sabotaging thoughts in their tracks and reinforce it with a positive statement.  This tells your brain that you are not stressed and everything is ok.

4. Do Something Joyful – Most people can get really caught up in their health issues.  It can bring about melancholy, depression and even anger.  It is important to counter act those feelings with joy. 
Did you know that laughter heals? Or that a smile, even if faked can release feel good hormones in your body.  Feel good hormones are what you need to heal.  Watch a comedy, do laughter yoga, smell some flowers, call a good friend, or simply think about something that brought you joy (really visualize it).
These are just a few techniques to get your started.  Doing them on a daily basis will help to increase your vibration, keep your body out of stress, and keep your moods positive.  It can even heal.  When your vibrating at a higher frequency, you attract all that you need to be well.